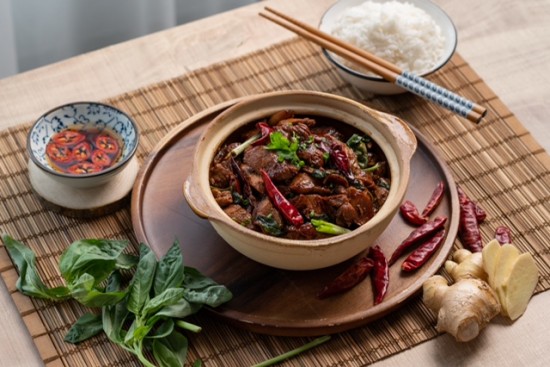 Taiwanese Style Three Cup Chicken

15 mins

2 SERVINGS
INGREDIENTS
1 pc Sadia Chicken Skinless Breast, cut into 1-inch pieces
1 small piece ginger, cut into 5-6 thin slices
1 whole garlic, peeled into cloves
2 stalks green onion, cut into long pieces
3-4 dried chili pepper (optional)
A handful of fresh basil leaves
1/4 cup or 4 tbsp sesame oil for cooking (ideally toasted sesame oil)
A few drops of sesame oil on top for garnishing
Seasonings:
1/4 cup apple juice (or white grape juice)
3 tbsp soy sauce + 1 tbsp dark soy sauce
2 tbsp sugar
METHOD
Mix apple juice, soy sauce, dark soy sauce and sugar well in a bowl and set aside.
Heat sesame oil over medium-low heat till simmering, sauté the ginger slices for 2-3 minutes or until browned and crisp.
Add the garlic cloves, cook for a minute or until fragrant.
Stir in the green onion and dried chili peppers, sauté until fragrant.
Turn up to medium heat and add the chicken into the pan. Stir-fry for 2-3 minutes or until the chicken is no longer pink.
Grab the seasoning mixture made in step one, give it a good stir and pour into the pan. Turn to high heat and stir the ingredients well to make sure the seasonings are evenly distributed.
When the sauce starts to boil, turn down to medium-low heat and simmer until the sauce has thickened, stir occasionally while cooking.
Sprinkle the fresh basil leaves around the pan, simmer for another minute or two until soft.
Transfer to a large plate and drizzle a few drops of sesame oil on top and enjoy while its hot! Serve with some rice on the side if preferred.
One by One Chicken Breast (Skinless)
Other Recipes
NOT AVAILABLE

2 SERVINGS

35 mins

2 SERVINGS

30 mins

2 SERVINGS

40 min

2 SERVINGS

30 min

4 SERVINGS

10 mins

4-6 SERVINGS

20 mins

5 to 6 SERVINGS

30 mins

2 SERVINGS

35 mins

6 SERVINGS

Dak Galbi (Korean Spicy Chicken Stir Fry)

40 mins

2-3 SERVINGS

Claypot Chicken Rice in Rice Cooker

15 mins

4 SERVINGS

15 mins

4 SERVINGS

15 mins

4 SERVINGS

15 mins

2 SERVINGS

10 mins

3 to 4 SERVINGS

15 mins

2 SERVINGS

10 mins

2 SERVINGS

10 - 15 mins

4 SERVINGS

10 mins

4 SERVINGS

15 mins

8 SERVINGS

15 mins

4 SERVINGS

15 mins

4 SERVINGS

5 mins

2-3 SERVINGS

15 mins

2 SERVINGS

5 mins

4 SERVINGS

Coconut Stir Fry Noodles & Nasi Lemak Wings

5 mins

4 SERVINGS

15 mins

4 SERVINGS

5 mins

3 SERVINGS

20 min

3-4 SERVINGS

10 min

4 SERVINGS

10 mins

4 SERVINGS

20 mins

4 SERVINGS

Chipotle Butter Chicken Meatballs

15 min

4 SERVINGS

15 min

4 SERVINGS

5 min

4 SERVINGS

10 min

2 SERVINGS

10 min

2 SERVINGS

4 hrs (marinating time)

4 SERVINGS

30 min

6 SERVINGS

Spicy Beef and Capsicum Stir-Fry

20 min

4 SERVINGS

Cheesy Chicken & Broccoli Patties

10 min

4 SERVINGS

15min

4 SERVINGS

5min

4 SERVINGS

15min

4 SERVINGS

Golden Egg Tofu with Minced Chicken

10min

4 SERVINGS

45 min

6 SERVINGS

Picadinho (Brazilian Beef Stew) with Banana Farofa

20 min

4-5 SERVINGS

10 min

2 SERVINGS
Popular Recipes