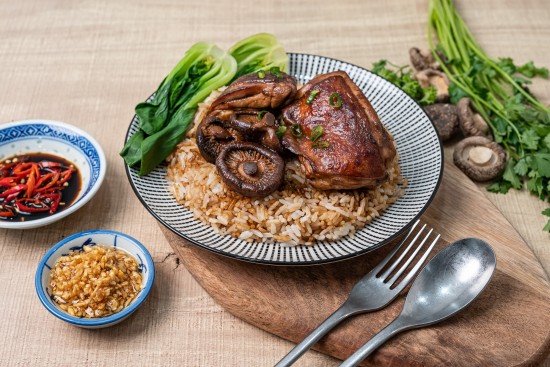 Claypot Chicken Rice in Rice Cooker

15 mins

4 SERVINGS
INGREDIENTS
450g chicken thigh
4 tbsp oil
4 cloves garlic, minced
1 inch ginger, sliced
3 rehydrated shiitake mushrooms, sliced
50g rehydrated dried scallops
1 tsp salt
1 tsp sugar
1/2 tsp ground white/black pepper
2 cups rice, washed and drained
1 tsp sesame oil
2 scallions, thinly sliced diagonally
MARINADE
:
1 tbsp oyster sauce
1 tbsp light soy sauce
1 tbsp dark soy sauce
2 inch ginger, grated
(*) Soak dried shiitake mushrooms in hot water until soft and fluffy, remove stems, then thinly sliced. You can use the soaking water as part of the water to cook the rice.
METHOD
Marinate chicken thigh with the sauces. Then set aside for 20 minutes or more.
Heat oil in a frying pan or wok and sauté garlic and ginger until fragrant, or for about 2 to 3 minutes.
Add shiitake mushroom, chicken thigh along with all the marinating sauce, then season with salt, sugar, and ground white/black pepper. Chicken does not need to be cooked through - remaining cook time will be in the rice cooker
Add rice and usual amount of water to rice cooker.
Transfer all the ingredients from the pan into the rice cooker pot and add the required water to cook the rice (follow instructions for your rice cooker). Then drizzle with sesame oil.
Set your rice cooker to cook.
When cooking is completed, open the lid and add the sliced scallions. (Optional: Drizzle dark soya sauce over rice). Fluff the rice with a paddle and serve.
Chicken Thigh
Other Recipes
NOT AVAILABLE

2 SERVINGS

35 mins

2 SERVINGS

30 mins

2 SERVINGS

40 min

2 SERVINGS

30 min

4 SERVINGS

10 mins

4-6 SERVINGS

20 mins

5 to 6 SERVINGS

30 mins

2 SERVINGS

35 mins

6 SERVINGS

Dak Galbi (Korean Spicy Chicken Stir Fry)

40 mins

2-3 SERVINGS

15 mins

4 SERVINGS

15 mins

4 SERVINGS

15 mins

2 SERVINGS

10 mins

3 to 4 SERVINGS

15 mins

2 SERVINGS

10 mins

2 SERVINGS

10 - 15 mins

4 SERVINGS

10 mins

4 SERVINGS

Taiwanese Style Three Cup Chicken

15 mins

2 SERVINGS

15 mins

8 SERVINGS

15 mins

4 SERVINGS

15 mins

4 SERVINGS

5 mins

2-3 SERVINGS

15 mins

2 SERVINGS

5 mins

4 SERVINGS

Coconut Stir Fry Noodles & Nasi Lemak Wings

5 mins

4 SERVINGS

15 mins

4 SERVINGS

5 mins

3 SERVINGS

20 min

3-4 SERVINGS

10 min

4 SERVINGS

10 mins

4 SERVINGS

20 mins

4 SERVINGS

Chipotle Butter Chicken Meatballs

15 min

4 SERVINGS

15 min

4 SERVINGS

5 min

4 SERVINGS

10 min

2 SERVINGS

10 min

2 SERVINGS

4 hrs (marinating time)

4 SERVINGS

30 min

6 SERVINGS

Spicy Beef and Capsicum Stir-Fry

20 min

4 SERVINGS

Cheesy Chicken & Broccoli Patties

10 min

4 SERVINGS

15min

4 SERVINGS

5min

4 SERVINGS

15min

4 SERVINGS

Golden Egg Tofu with Minced Chicken

10min

4 SERVINGS

45 min

6 SERVINGS

Picadinho (Brazilian Beef Stew) with Banana Farofa

20 min

4-5 SERVINGS

10 min

2 SERVINGS

10 min

5-6 SERVINGS

Chicken and Seaweed Rice Balls

15 min

4 SERVINGS
Popular Recipes