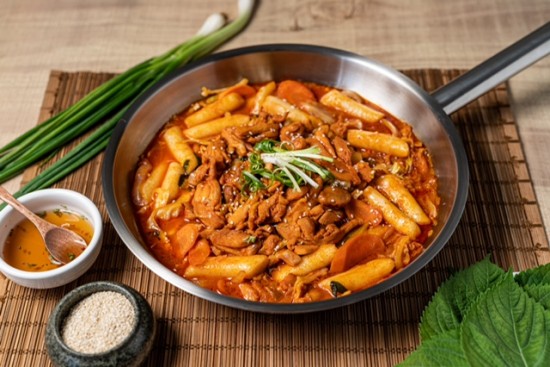 Dak Galbi (Korean Spicy Chicken Stir Fry)

40 mins

2-3 SERVINGS
INGREDIENTS
500g chicken thigh fillets
1/2 medium sweet potato, cut into long, thick sticks
1/2 small carrot, diagonally sliced
1/4 small cabbage, shredded
10 Korean perilla leaves, thinly sliced
175g fresh Korean rice cakes, separated (if you use pre-packaged rice cakes, separate them first then soak in warm water for 10 mins before using)
2-3 tbsp cooking oil

MARINADE SAUCE:
3 tbsp gochujang (Korean chilli paste)
1 tbsp Korean chilli flakes
1 tbsp soy sauce
1 tbsp raw sugar
1 tbsp garlic, minced
1 tsp ginger, minced
1 tsp Korean curry powder
1/2 small onion, grated or minced
A few sprinkles of ground black pepper
METHOD
Combine all marinade ingredients in a bowl and mix well.
Pour the sauce over the chopped chicken and marinate for at least 30 mins. (If you can afford more time, marinate for at least 4h, or even overnight for better flavoured chicken.)
Preheat a large skillet on medium high heat. Once heated, add some cooking oil.
Put all the vegetables and rice cakes into the skillet and add the meat on top. Cook on medium high heat for 3-4 mins.
Reduce the heat to medium, then to medium low. Cook further until all ingredients are cooked, or for about 10-15 mins.
Make sure to stir often to avoid food sticking onto the pan. Cover with a lid to speed up the cooking process.
Serve with rice and other Korean side dishes (optional).
Chicken Thigh
Other Recipes
NOT AVAILABLE

2 SERVINGS

35 mins

2 SERVINGS

30 mins

2 SERVINGS

40 min

2 SERVINGS

30 min

4 SERVINGS

10 mins

4-6 SERVINGS

20 mins

5 to 6 SERVINGS

30 mins

2 SERVINGS

35 mins

6 SERVINGS

Claypot Chicken Rice in Rice Cooker

15 mins

4 SERVINGS

15 mins

4 SERVINGS

15 mins

4 SERVINGS

15 mins

2 SERVINGS

10 mins

3 to 4 SERVINGS

15 mins

2 SERVINGS

10 mins

2 SERVINGS

10 - 15 mins

4 SERVINGS

10 mins

4 SERVINGS

Taiwanese Style Three Cup Chicken

15 mins

2 SERVINGS

15 mins

8 SERVINGS

15 mins

4 SERVINGS

15 mins

4 SERVINGS

5 mins

2-3 SERVINGS

15 mins

2 SERVINGS

5 mins

4 SERVINGS

Coconut Stir Fry Noodles & Nasi Lemak Wings

5 mins

4 SERVINGS

15 mins

4 SERVINGS

5 mins

3 SERVINGS

20 min

3-4 SERVINGS

10 min

4 SERVINGS

10 mins

4 SERVINGS

20 mins

4 SERVINGS

Chipotle Butter Chicken Meatballs

15 min

4 SERVINGS

15 min

4 SERVINGS

5 min

4 SERVINGS

10 min

2 SERVINGS

10 min

2 SERVINGS

4 hrs (marinating time)

4 SERVINGS

30 min

6 SERVINGS

Spicy Beef and Capsicum Stir-Fry

20 min

4 SERVINGS

Cheesy Chicken & Broccoli Patties

10 min

4 SERVINGS

15min

4 SERVINGS

5min

4 SERVINGS

15min

4 SERVINGS

Golden Egg Tofu with Minced Chicken

10min

4 SERVINGS

45 min

6 SERVINGS

Picadinho (Brazilian Beef Stew) with Banana Farofa

20 min

4-5 SERVINGS

10 min

2 SERVINGS
Popular Recipes