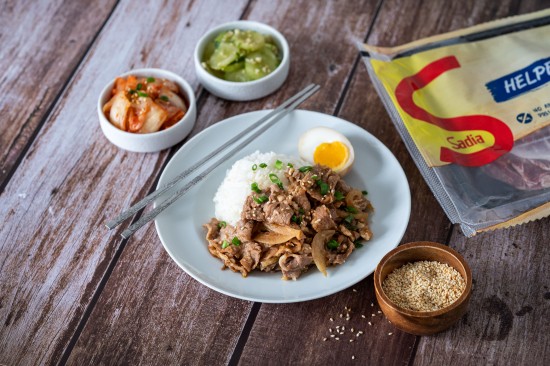 Beef Bulgogi

4 hrs (marinating time)

4 SERVINGS
INGREDIENTS
800g Sadia Beef Shabu Shabu
1 onion, peeled & thinly sliced
2 stalks spring onions, thinly sliced
1 tbsp toasted sesame oil
1 tbsp toasted sesame seeds
1 tbsp vegetable oil
Bulgogi Marinade
6 tbsp soy sauce
3 tbsp brown sugar
1 asian pear or red apple
1/2 onion
1 tbsp minced garlic
1 tsp minced ginger
Ground black pepper
METHOD
Blend the marinade ingredients in a mixer or food processor until smooth. Set aside
Place Sadia beef Shabu Shabu in a mixing bowl and pour the marinade over it. Mix well
Add the sesame oil and mix into the meat. Cover the bowl with cling wrap and marinate the meat for at least 4 hours in the fridge
Preheat a skillet on medium high heat until well heated. Add oil and cook the meat (and vegetables) on medium high heat for 3 to 5 mins. Toss in the sesame seeds and stir quickly
Serve bulgogi with steamed rice. Enjoy!
Beef Shabu Shabu
Other Recipes
NOT AVAILABLE

2 SERVINGS

35 mins

2 SERVINGS

30 mins

2 SERVINGS

40 min

2 SERVINGS

30 min

4 SERVINGS

10 mins

4-6 SERVINGS

20 mins

5 to 6 SERVINGS

30 mins

2 SERVINGS

35 mins

6 SERVINGS

Dak Galbi (Korean Spicy Chicken Stir Fry)

40 mins

2-3 SERVINGS

Claypot Chicken Rice in Rice Cooker

15 mins

4 SERVINGS

15 mins

4 SERVINGS

15 mins

4 SERVINGS

15 mins

2 SERVINGS

10 mins

3 to 4 SERVINGS

15 mins

2 SERVINGS

10 mins

2 SERVINGS

10 - 15 mins

4 SERVINGS

10 mins

4 SERVINGS

Taiwanese Style Three Cup Chicken

15 mins

2 SERVINGS

15 mins

8 SERVINGS

15 mins

4 SERVINGS

15 mins

4 SERVINGS

5 mins

2-3 SERVINGS

15 mins

2 SERVINGS

5 mins

4 SERVINGS

Coconut Stir Fry Noodles & Nasi Lemak Wings

5 mins

4 SERVINGS

15 mins

4 SERVINGS

5 mins

3 SERVINGS

20 min

3-4 SERVINGS

10 min

4 SERVINGS

10 mins

4 SERVINGS

20 mins

4 SERVINGS

Chipotle Butter Chicken Meatballs

15 min

4 SERVINGS

15 min

4 SERVINGS

5 min

4 SERVINGS

10 min

2 SERVINGS

10 min

2 SERVINGS

30 min

6 SERVINGS

Spicy Beef and Capsicum Stir-Fry

20 min

4 SERVINGS

Cheesy Chicken & Broccoli Patties

10 min

4 SERVINGS

15min

4 SERVINGS

5min

4 SERVINGS

15min

4 SERVINGS

Golden Egg Tofu with Minced Chicken

10min

4 SERVINGS

45 min

6 SERVINGS

Picadinho (Brazilian Beef Stew) with Banana Farofa

20 min

4-5 SERVINGS

10 min

2 SERVINGS
Popular Recipes