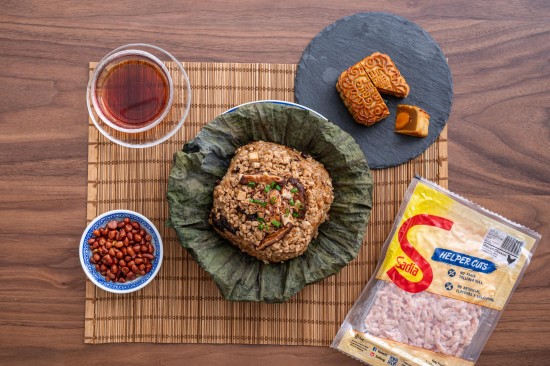 Chinese Savoury Sticky Rice

45 min

6 SERVINGS
INGREDIENTS
1 cup dry glutinous rice
600g (2 packets) of Sadia Minced Chicken
For Sauce mixture:
½ tbsp dark soy sauce
1 tbsp soy sauce
1 tbsp cane sugar
1 tsp sesame oil
Ground white pepper
¼ cup vegetable broth or water
1 tbsp sesame oil
1 tsp minced garlic
1 tsp minced ginger
100g fresh shiitake mushrooms or other mushrooms of choice sliced
100g extra firm tofu pressed and diced
1 head bok choy mustard greens, or other greens of choice
1 tsp dark soy sauce
1 tbsp soy sauce
2 tsp cane sugar
½ cup vegetable broth or water, adjust accordingly
15 g chopped chives or scallions , around ¼ cup
Roasted peanuts
Chopped scallions
METHOD
Soak glutinous rice for 1 hour before cooking it in a steamer lined with some parchment paper/lotus leaf (to prevent sticking). Spread the rice and then cover, and wait for about 30-40 minutes until it is chewy.
Heat sesame oil in large pan over high heat, then sauté garlic and ginger until aromatic for a couple minutes.
Add in the tofu and fry evenly until lightly browned on all sides. Next, add the minced chicken and the soy sauces. Lightly toss and sauté for 2 to 3 minutes. Sprinkle sugar over mixture and mix until all have dissolved.
Add mushrooms in and cook for another 2 to 3 minutes before removing from pan.Then saute vegetables and cook them through before setting aside.
Mix the steamed glutinous rice, and sautéed ingredients together, before pouring in the sauce mixture prepared.
Let the rice simmer over medium heat while tossing it evenly coat with sauce. Add in 1/4 to 1/2 cup water to reduce mixture to a desired concentration.
Throw in chopped chives and cover the pan for rice to cook for 2 to 3 more minutes over low heat.
Grab a bowl and scoop rice in, top with chopped scallions and roasted peanuts and it's ready for serve!
Minced Chicken
Other Recipes
NOT AVAILABLE

2 SERVINGS

35 mins

2 SERVINGS

30 mins

2 SERVINGS

40 min

2 SERVINGS

30 min

4 SERVINGS

10 mins

4-6 SERVINGS

20 mins

5 to 6 SERVINGS

30 mins

2 SERVINGS

35 mins

6 SERVINGS

Dak Galbi (Korean Spicy Chicken Stir Fry)

40 mins

2-3 SERVINGS

Claypot Chicken Rice in Rice Cooker

15 mins

4 SERVINGS

15 mins

4 SERVINGS

15 mins

4 SERVINGS

15 mins

2 SERVINGS

10 mins

3 to 4 SERVINGS

15 mins

2 SERVINGS

10 mins

2 SERVINGS

10 - 15 mins

4 SERVINGS

10 mins

4 SERVINGS

Taiwanese Style Three Cup Chicken

15 mins

2 SERVINGS

15 mins

8 SERVINGS

15 mins

4 SERVINGS

15 mins

4 SERVINGS

5 mins

2-3 SERVINGS

15 mins

2 SERVINGS

5 mins

4 SERVINGS

Coconut Stir Fry Noodles & Nasi Lemak Wings

5 mins

4 SERVINGS

15 mins

4 SERVINGS

5 mins

3 SERVINGS

20 min

3-4 SERVINGS

10 min

4 SERVINGS

10 mins

4 SERVINGS

20 mins

4 SERVINGS

Chipotle Butter Chicken Meatballs

15 min

4 SERVINGS

15 min

4 SERVINGS

5 min

4 SERVINGS

10 min

2 SERVINGS

10 min

2 SERVINGS

4 hrs (marinating time)

4 SERVINGS

30 min

6 SERVINGS

Spicy Beef and Capsicum Stir-Fry

20 min

4 SERVINGS

Cheesy Chicken & Broccoli Patties

10 min

4 SERVINGS

15min

4 SERVINGS

5min

4 SERVINGS

15min

4 SERVINGS

Golden Egg Tofu with Minced Chicken

10min

4 SERVINGS

Picadinho (Brazilian Beef Stew) with Banana Farofa

20 min

4-5 SERVINGS

10 min

2 SERVINGS

10 min

5-6 SERVINGS

Chicken and Seaweed Rice Balls

15 min

4 SERVINGS
Popular Recipes