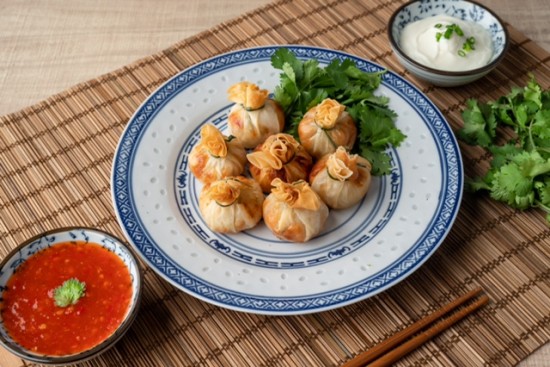 Money Bag Wontons

35 mins

6 SERVINGS
INGREDIENTS
Vegetable oil for deep frying
200g wonton wrappers
Water for sealing wonton

Meat filling:
150g chicken, minced
5 water chestnut, peeled and coarsely chopped
8 medium prawns (about 100g when peeled), coarsely chopped
1/4 cup spring onions, chopped
1 tbsp garlic, chopped
1-2 pandan leaves, scald with hot water to soften, wipe dry with paper towel and cut to thin (2-3mm width) strings

Seasoning:
1 tsp light soy sauce
1/2 tsp fish sauce
1 tbsp sesame oil
1/4 tsp chicken or ikan bilis seasoning powder
A few dashes white pepper, to taste
1 tsp sugar
1 tsp corn flour (starch)
METHOD
In a large bowl, combine ingredients for meat filling and seasoning. Mix well and marinate for a few hours or overnight in the fridge.
Place a piece of wonton wrapper on the work surface. Add a tsp of filling in the center of the wrapper and wet the edges with water.
Fold down halfway diagonally to form a triangle (if using square wrappers) or a half-crescent (if using round wrappers). Press gently on edges to seal the wonton.
Pleat edges towards the centre. Twist the top to form a nice pouch.
If you like, secure each wonton by typing with a pandan "string" and trim off the excess pandan with scissors. Skip this step for steamed or boiled wontons.
Heat oil in wok until 180°C. Deep fry wontons, in batches, for about 2-3 minutes, or until golden brown. Drain wontons on kitchen towels or tempura papers before serving.
Minced Chicken
Other Recipes
NOT AVAILABLE

2 SERVINGS

35 mins

2 SERVINGS

30 mins

2 SERVINGS

40 min

2 SERVINGS

30 min

4 SERVINGS

10 mins

4-6 SERVINGS

20 mins

5 to 6 SERVINGS

30 mins

2 SERVINGS

Dak Galbi (Korean Spicy Chicken Stir Fry)

40 mins

2-3 SERVINGS

Claypot Chicken Rice in Rice Cooker

15 mins

4 SERVINGS

15 mins

4 SERVINGS

15 mins

4 SERVINGS

15 mins

2 SERVINGS

10 mins

3 to 4 SERVINGS

15 mins

2 SERVINGS

10 mins

2 SERVINGS

10 - 15 mins

4 SERVINGS

10 mins

4 SERVINGS

Taiwanese Style Three Cup Chicken

15 mins

2 SERVINGS

15 mins

8 SERVINGS

15 mins

4 SERVINGS

15 mins

4 SERVINGS

5 mins

2-3 SERVINGS

15 mins

2 SERVINGS

5 mins

4 SERVINGS

Coconut Stir Fry Noodles & Nasi Lemak Wings

5 mins

4 SERVINGS

15 mins

4 SERVINGS

5 mins

3 SERVINGS

20 min

3-4 SERVINGS

10 min

4 SERVINGS

10 mins

4 SERVINGS

20 mins

4 SERVINGS

Chipotle Butter Chicken Meatballs

15 min

4 SERVINGS

15 min

4 SERVINGS

5 min

4 SERVINGS

10 min

2 SERVINGS

10 min

2 SERVINGS

4 hrs (marinating time)

4 SERVINGS

30 min

6 SERVINGS

Spicy Beef and Capsicum Stir-Fry

20 min

4 SERVINGS

Cheesy Chicken & Broccoli Patties

10 min

4 SERVINGS

15min

4 SERVINGS

5min

4 SERVINGS

15min

4 SERVINGS

Golden Egg Tofu with Minced Chicken

10min

4 SERVINGS

45 min

6 SERVINGS

Picadinho (Brazilian Beef Stew) with Banana Farofa

20 min

4-5 SERVINGS

10 min

2 SERVINGS

10 min

5-6 SERVINGS

Chicken and Seaweed Rice Balls

15 min

4 SERVINGS
Popular Recipes