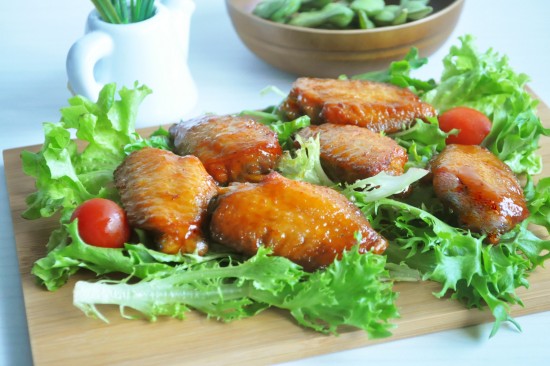 Baked Honey & Garlic Chicken

NOT AVAILABLE

2 SERVINGS
INGREDIENTS
6 pieces of Chicken Mid Joint Wing
50g Edamame Beans
1 tablespoon Baking Powder
1 teaspoon Garlic Powder
Honey Garlic Sauce:
2 tablespoon Honey
1 tablespoon Light Soy Sauce
1 tablespoon minced garlic
1 teaspoon garlic powder
1 teaspoon molasses sugar
3 tablespoon water
¼ teaspoon corn flour
METHOD
Prepare the chicken mid wings by washing them clean and patting them very dry with paper towels. Alternatively, you can leave them in the fridge and dry them out overnight.
Add the baking powder and garlic powder to the chicken and rub them evenly all over.
Prepare a wire rack by spraying non-stick coating over the surface. Ensure that the wire rack is well-coated by brushing the oil over it with a pastry brush.
Place the chicken on the wire rack and bake them in a pre-heated oven at 150º C for 30 minutes. (You'll see the baking powder sizzle and moistureforming on the chicken. This is normal — it means that the chicken will be crispy!)
Meantime, prepare the vegetables. (Edamame beans used here but you can use any vegetable you like.) Boil some water with 1 teaspoon of salt. Add the vegetables into the boiling water and cook it until they turn bright green in colour. Drain and set aside.
Prepare the honey and garlic sauce by combining all the ingredients for the sauce in a pot. Cook it over low flame until it boils, stirring constantly to prevent the sugar from burning. Remove the pot from the flame when the sauce starts to thicken and becomes sticky.
Back to the chicken. Flip the mid joint wings and rest them on the other side. Increase the temperature to 200º C and bake for another 12 to 15 minutes, or until the chicken turns golden brown.
Remove the chicken from the oven and coat them with the honey garlic sauce with a pastry brush (because the sauce is very sticky!) Serve hot with edamame beans. Enjoy!
Chicken Mid Joint Wing
One by One Chicken Mid Joint Wing
Other Recipes
35 mins

2 SERVINGS

30 mins

2 SERVINGS

40 min

2 SERVINGS

30 min

4 SERVINGS

10 mins

4-6 SERVINGS

20 mins

5 to 6 SERVINGS

30 mins

2 SERVINGS

35 mins

6 SERVINGS

Dak Galbi (Korean Spicy Chicken Stir Fry)

40 mins

2-3 SERVINGS

Claypot Chicken Rice in Rice Cooker

15 mins

4 SERVINGS

15 mins

4 SERVINGS

15 mins

4 SERVINGS

15 mins

2 SERVINGS

10 mins

3 to 4 SERVINGS

15 mins

2 SERVINGS

10 mins

2 SERVINGS

10 - 15 mins

4 SERVINGS

10 mins

4 SERVINGS

Taiwanese Style Three Cup Chicken

15 mins

2 SERVINGS

15 mins

8 SERVINGS

15 mins

4 SERVINGS

15 mins

4 SERVINGS

5 mins

2-3 SERVINGS

15 mins

2 SERVINGS

5 mins

4 SERVINGS

Coconut Stir Fry Noodles & Nasi Lemak Wings

5 mins

4 SERVINGS

15 mins

4 SERVINGS

5 mins

3 SERVINGS

20 min

3-4 SERVINGS

10 min

4 SERVINGS

10 mins

4 SERVINGS

20 mins

4 SERVINGS

Chipotle Butter Chicken Meatballs

15 min

4 SERVINGS

15 min

4 SERVINGS

5 min

4 SERVINGS

10 min

2 SERVINGS

10 min

2 SERVINGS

4 hrs (marinating time)

4 SERVINGS

30 min

6 SERVINGS

Spicy Beef and Capsicum Stir-Fry

20 min

4 SERVINGS

Cheesy Chicken & Broccoli Patties

10 min

4 SERVINGS

15min

4 SERVINGS

5min

4 SERVINGS

15min

4 SERVINGS

Golden Egg Tofu with Minced Chicken

10min

4 SERVINGS

45 min

6 SERVINGS

Picadinho (Brazilian Beef Stew) with Banana Farofa

20 min

4-5 SERVINGS

10 min

2 SERVINGS
Popular Recipes