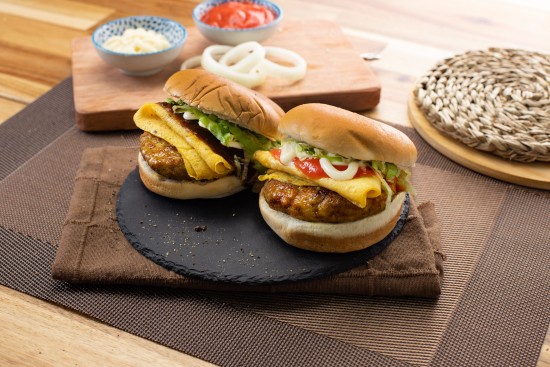 Ramly Burger

30 min

4 SERVINGS
INGREDIENTS
Chicken Patty
300g Sadia minced chicken
½ teaspoon white pepper
1 teaspoon Maggi seasoning
1 teaspoon salt
Burger
2 burger buns
1 tablespoon butter
Cabbage, shredded
Sauce
2 tablespoon mayonnaise
2 teaspoon Worcestershire sauce
2 tablespoon black pepper sauce
2 tablespoon chilli sauce
1 teaspoon curry powder
2 eggs
METHOD
Combine the minced chicken, white pepper, and Maggi seasoning. Chill chicken mixture in the fridge for a minimum of 15 minutes.
Remove and divide the chicken mixture into four equal portions. Shape each portion into individual discs.
Slice the burger buns lengthwise and slather with butter.
In a large pan on medium heat, carefully toast the buttered buns till golden-brown. Remove buns from pan.
In the same pan on medium-high heat, add a light coat of oil and fry the chicken patty.
Season the first side with salt, Worcestershire sauce, and curry powder before flipping over. Cook the patties until they are golden-brown on both sides. Remove patty from the pan.
In the same pan on low-medium heat, add a light coat of oil and pour in a beaten egg. You will have to do this separately for each burger.
Place the patty on the buns, omelette and cabbage. Slather with black pepper, mayonnaise and chilli sauce.
Minced Chicken
Other Recipes
NOT AVAILABLE

2 SERVINGS

35 mins

2 SERVINGS

30 mins

2 SERVINGS

40 min

2 SERVINGS

10 mins

4-6 SERVINGS

20 mins

5 to 6 SERVINGS

30 mins

2 SERVINGS

35 mins

6 SERVINGS

Dak Galbi (Korean Spicy Chicken Stir Fry)

40 mins

2-3 SERVINGS

Claypot Chicken Rice in Rice Cooker

15 mins

4 SERVINGS

15 mins

4 SERVINGS

15 mins

4 SERVINGS

15 mins

2 SERVINGS

10 mins

3 to 4 SERVINGS

15 mins

2 SERVINGS

10 mins

2 SERVINGS

10 - 15 mins

4 SERVINGS

10 mins

4 SERVINGS

Taiwanese Style Three Cup Chicken

15 mins

2 SERVINGS

15 mins

8 SERVINGS

15 mins

4 SERVINGS

15 mins

4 SERVINGS

5 mins

2-3 SERVINGS

15 mins

2 SERVINGS

5 mins

4 SERVINGS

Coconut Stir Fry Noodles & Nasi Lemak Wings

5 mins

4 SERVINGS

15 mins

4 SERVINGS

5 mins

3 SERVINGS

20 min

3-4 SERVINGS

10 min

4 SERVINGS

10 mins

4 SERVINGS

20 mins

4 SERVINGS

Chipotle Butter Chicken Meatballs

15 min

4 SERVINGS

15 min

4 SERVINGS

5 min

4 SERVINGS

10 min

2 SERVINGS

10 min

2 SERVINGS

4 hrs (marinating time)

4 SERVINGS

30 min

6 SERVINGS

Spicy Beef and Capsicum Stir-Fry

20 min

4 SERVINGS

Cheesy Chicken & Broccoli Patties

10 min

4 SERVINGS

15min

4 SERVINGS

5min

4 SERVINGS

15min

4 SERVINGS

Golden Egg Tofu with Minced Chicken

10min

4 SERVINGS

45 min

6 SERVINGS

Picadinho (Brazilian Beef Stew) with Banana Farofa

20 min

4-5 SERVINGS

10 min

2 SERVINGS

10 min

5-6 SERVINGS

Chicken and Seaweed Rice Balls

15 min

4 SERVINGS
Popular Recipes