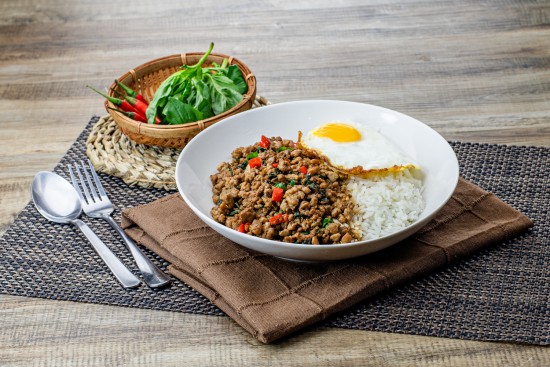 Spicy Thai Basil Chicken

30 mins

2 SERVINGS
INGREDIENTS
1 packet Sadia minced chicken
5 cloves of garlic, diced
4-10 Thai chilies
1½ tsp oyster sauce
½ tsp light soy sauce
A splash of dark sweet soy sauce
½ tsp sugar
A handful of basil leaves
1 egg
Oil
METHOD
Heat 2 tablespoons of vegetable oil in a wok or frying pan on high-medium heat and fry an egg. Drain the excess oil and set it aside.
Heat the wok on high heat, and add 1 tablespoon of oil.
When the oil is hot, add chilies and garlic. Stir fry them for 20 seconds or until they are really fragrant.
Toss in Sadia minced chicken, stir fry continuously until it is fully cooked. If it starts to get dry, add just a tiny splash of water.
Add in oyster sauce, light soy sauce, sugar and dark soy sauce. Keep stir frying for another 30 seconds.
Grab a handful of basil leaves, toss it into the pan, fold it into the chicken, and then immediately turn off the heat. (The basil leaves only needs to cook for 5 seconds, and it will continue to wilt and cook from the existing heat of the chicken.)
Serve the Thai basil chicken with rice and topped it with an egg.
Minced Chicken
Other Recipes
NOT AVAILABLE

2 SERVINGS

35 mins

2 SERVINGS

40 min

2 SERVINGS

30 min

4 SERVINGS

10 mins

4-6 SERVINGS

20 mins

5 to 6 SERVINGS

30 mins

2 SERVINGS

35 mins

6 SERVINGS

Dak Galbi (Korean Spicy Chicken Stir Fry)

40 mins

2-3 SERVINGS

Claypot Chicken Rice in Rice Cooker

15 mins

4 SERVINGS

15 mins

4 SERVINGS

15 mins

4 SERVINGS

15 mins

2 SERVINGS

10 mins

3 to 4 SERVINGS

15 mins

2 SERVINGS

10 mins

2 SERVINGS

10 - 15 mins

4 SERVINGS

10 mins

4 SERVINGS

Taiwanese Style Three Cup Chicken

15 mins

2 SERVINGS

15 mins

8 SERVINGS

15 mins

4 SERVINGS

15 mins

4 SERVINGS

5 mins

2-3 SERVINGS

15 mins

2 SERVINGS

5 mins

4 SERVINGS

Coconut Stir Fry Noodles & Nasi Lemak Wings

5 mins

4 SERVINGS

15 mins

4 SERVINGS

5 mins

3 SERVINGS

20 min

3-4 SERVINGS

10 min

4 SERVINGS

10 mins

4 SERVINGS

20 mins

4 SERVINGS

Chipotle Butter Chicken Meatballs

15 min

4 SERVINGS

15 min

4 SERVINGS

5 min

4 SERVINGS

10 min

2 SERVINGS

10 min

2 SERVINGS

4 hrs (marinating time)

4 SERVINGS

30 min

6 SERVINGS

Spicy Beef and Capsicum Stir-Fry

20 min

4 SERVINGS

Cheesy Chicken & Broccoli Patties

10 min

4 SERVINGS

15min

4 SERVINGS

5min

4 SERVINGS

15min

4 SERVINGS

Golden Egg Tofu with Minced Chicken

10min

4 SERVINGS

45 min

6 SERVINGS

Picadinho (Brazilian Beef Stew) with Banana Farofa

20 min

4-5 SERVINGS

10 min

2 SERVINGS

10 min

5-6 SERVINGS

Chicken and Seaweed Rice Balls

15 min

4 SERVINGS
Popular Recipes