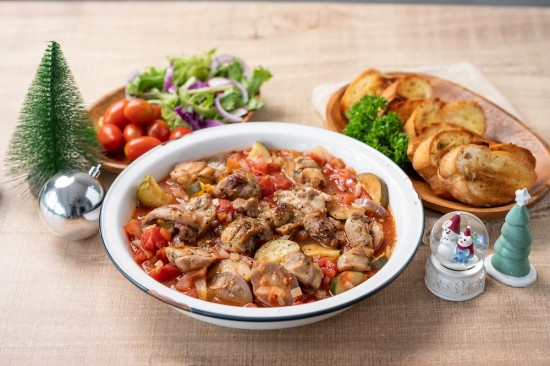 One Pot Chicken Ratatouille

15 mins

4 SERVINGS
INGREDIENTS
1kg(half pack) Sadia chicken boneless leg, cut into bite-size pieces
2 tbsp olive oil
Salt and pepper to season
1 1/2 tsp Italian seasoning
1 small yellow onion, sliced
2 garlic cloves, minced
1 eggplant cut into 1 inch pieces
2 medium zucchini, cut into half-moons
2 medium tomatoes, diced
1 cup canned crushed tomatoes
1/2 cup chicken stock or broth
1 tbsp chopped parsley
METHOD
Heat oil in large saucepan. Add chicken, season with salt and pepper and cook until no longer pink.
Add 1 tsp of Italian seasoning and cook for 2 more minutes. This adds flavour to the chicken. Remove onto a plate and set aside.
Heat up more oil in pan. Then add garlic and onion and saute until the onion is almost translucent.
Add zucchini, eggplant and chopped tomatoes. Season with remaining Italian seasoning, some salt and pepper. Cook until tender.
Add crushed tomatoes, chicken broth and cooked chicken. Stir well and simmer for 5-10 minutes. Season with salt and pepper to taste.
Garnish with chopped parsley and serve it hot over some rice or sliced baguette. Bon Appétit!
Chicken Boneless Leg
Other Recipes
NOT AVAILABLE

2 SERVINGS

35 mins

2 SERVINGS

30 mins

2 SERVINGS

40 min

2 SERVINGS

30 min

4 SERVINGS

10 mins

4-6 SERVINGS

20 mins

5 to 6 SERVINGS

30 mins

2 SERVINGS

35 mins

6 SERVINGS

Dak Galbi (Korean Spicy Chicken Stir Fry)

40 mins

2-3 SERVINGS

Claypot Chicken Rice in Rice Cooker

15 mins

4 SERVINGS

15 mins

4 SERVINGS

15 mins

4 SERVINGS

15 mins

2 SERVINGS

10 mins

3 to 4 SERVINGS

15 mins

2 SERVINGS

10 mins

2 SERVINGS

10 - 15 mins

4 SERVINGS

10 mins

4 SERVINGS

Taiwanese Style Three Cup Chicken

15 mins

2 SERVINGS

15 mins

8 SERVINGS

15 mins

4 SERVINGS

5 mins

2-3 SERVINGS

15 mins

2 SERVINGS

5 mins

4 SERVINGS

Coconut Stir Fry Noodles & Nasi Lemak Wings

5 mins

4 SERVINGS

15 mins

4 SERVINGS

5 mins

3 SERVINGS

20 min

3-4 SERVINGS

10 min

4 SERVINGS

10 mins

4 SERVINGS

20 mins

4 SERVINGS

Chipotle Butter Chicken Meatballs

15 min

4 SERVINGS

15 min

4 SERVINGS

5 min

4 SERVINGS

10 min

2 SERVINGS

10 min

2 SERVINGS

4 hrs (marinating time)

4 SERVINGS

30 min

6 SERVINGS

Spicy Beef and Capsicum Stir-Fry

20 min

4 SERVINGS

Cheesy Chicken & Broccoli Patties

10 min

4 SERVINGS

15min

4 SERVINGS

5min

4 SERVINGS

15min

4 SERVINGS

Golden Egg Tofu with Minced Chicken

10min

4 SERVINGS

45 min

6 SERVINGS

Picadinho (Brazilian Beef Stew) with Banana Farofa

20 min

4-5 SERVINGS

10 min

2 SERVINGS
Popular Recipes