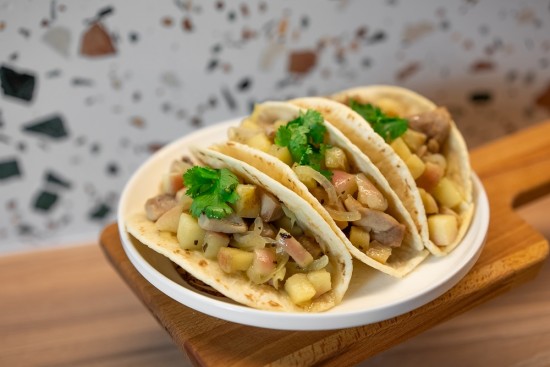 Chicken & Apple Stir-fry

10 mins

3 to 4 SERVINGS
INGREDIENTS
1 packs chicken cubes
1 tbsp butter or coconut oil
1 medium apples, diced
1 small onion, diced
1 bulb fennel, sliced thinly
1 tsp salt
1/2 tsp pepper
1 tsp garlic powder
1 tsp basil
METHOD
Heat the butter in large skillet until melted and cook chicken on medium-high heat until cooked through.
While the chicken is cooking, dice the apples and onion and thinly slice the fennel bulb into thin slivers.Then, add them to the skillet.
Add spices and saute over medium heat until all ingredients are cooked and fragrant, or for approximately 10 to 12 minutes.
Serve with rice or wrap in flatbread for a hearty meal. Enjoy!
Other Recipes
NOT AVAILABLE

2 SERVINGS

35 mins

2 SERVINGS

30 mins

2 SERVINGS

40 min

2 SERVINGS

30 min

4 SERVINGS

10 mins

4-6 SERVINGS

20 mins

5 to 6 SERVINGS

30 mins

2 SERVINGS

35 mins

6 SERVINGS

Dak Galbi (Korean Spicy Chicken Stir Fry)

40 mins

2-3 SERVINGS

Claypot Chicken Rice in Rice Cooker

15 mins

4 SERVINGS

15 mins

4 SERVINGS

15 mins

4 SERVINGS

15 mins

2 SERVINGS

15 mins

2 SERVINGS

10 mins

2 SERVINGS

10 - 15 mins

4 SERVINGS

10 mins

4 SERVINGS

Taiwanese Style Three Cup Chicken

15 mins

2 SERVINGS

15 mins

8 SERVINGS

15 mins

4 SERVINGS

15 mins

4 SERVINGS

5 mins

2-3 SERVINGS

15 mins

2 SERVINGS

5 mins

4 SERVINGS

Coconut Stir Fry Noodles & Nasi Lemak Wings

5 mins

4 SERVINGS

15 mins

4 SERVINGS

5 mins

3 SERVINGS

20 min

3-4 SERVINGS

10 min

4 SERVINGS

10 mins

4 SERVINGS

20 mins

4 SERVINGS

Chipotle Butter Chicken Meatballs

15 min

4 SERVINGS

15 min

4 SERVINGS

5 min

4 SERVINGS

10 min

2 SERVINGS

10 min

2 SERVINGS

4 hrs (marinating time)

4 SERVINGS

30 min

6 SERVINGS

Spicy Beef and Capsicum Stir-Fry

20 min

4 SERVINGS

Cheesy Chicken & Broccoli Patties

10 min

4 SERVINGS

15min

4 SERVINGS

5min

4 SERVINGS

15min

4 SERVINGS

Golden Egg Tofu with Minced Chicken

10min

4 SERVINGS

45 min

6 SERVINGS

Picadinho (Brazilian Beef Stew) with Banana Farofa

20 min

4-5 SERVINGS

10 min

2 SERVINGS
Popular Recipes