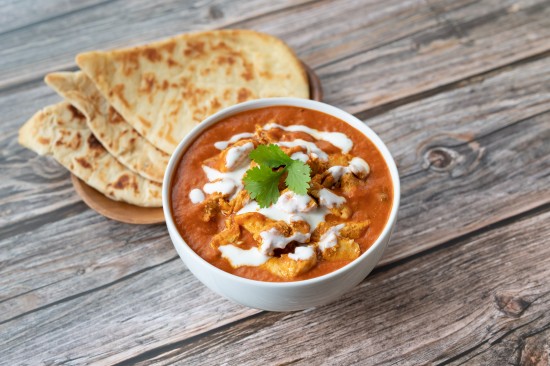 Butter Chicken

20 mins

4 SERVINGS
INGREDIENTS
1 pack Sadia One by One Chicken Fillet
1/3 cup tandoori paste
1/3 cup ghee
1/4 cup tomato paste
2cm-piece ginger, peeled and grated
1 long green chilli, finely sliced
1 tsp garam masala
1 tsp cumin
1 tsp sugar
1 cup water
300ml heavy or thickened cream
1 lemon, juiced

To serve:
Naan
Mango chutney
Lemon wedges
METHOD
Cut chicken fillet to bite-sized cubes
Marinate chicken in tandoori paste for about 30mins.
In a large, heavy-based saucepan, heat ghee on medium. Cook chicken 4 to 5 mins, turning frequently to sear well. Remove from pan
Using the same pan, add tomato paste, ginger, chilli, spices and sugar. Cook, continuously stirring for 1 to 2 mins
Add water, then cream. Bring to simmer on medium heat
Return chicken to sauce and simmer on medium heat for 15 to 20 mins, until chicken is cooked through
Add lemon juice and season to taste, stir well
Serve with naan, mango chutney and lemon wedges. Enjoy!
One by One Chicken Fillet
Other Recipes
NOT AVAILABLE

2 SERVINGS

35 mins

2 SERVINGS

30 mins

2 SERVINGS

40 min

2 SERVINGS

30 min

4 SERVINGS

10 mins

4-6 SERVINGS

20 mins

5 to 6 SERVINGS

30 mins

2 SERVINGS

35 mins

6 SERVINGS

Dak Galbi (Korean Spicy Chicken Stir Fry)

40 mins

2-3 SERVINGS

Claypot Chicken Rice in Rice Cooker

15 mins

4 SERVINGS

15 mins

4 SERVINGS

15 mins

4 SERVINGS

15 mins

2 SERVINGS

10 mins

3 to 4 SERVINGS

15 mins

2 SERVINGS

10 mins

2 SERVINGS

10 - 15 mins

4 SERVINGS

10 mins

4 SERVINGS

Taiwanese Style Three Cup Chicken

15 mins

2 SERVINGS

15 mins

8 SERVINGS

15 mins

4 SERVINGS

15 mins

4 SERVINGS

5 mins

2-3 SERVINGS

15 mins

2 SERVINGS

5 mins

4 SERVINGS

Coconut Stir Fry Noodles & Nasi Lemak Wings

5 mins

4 SERVINGS

15 mins

4 SERVINGS

5 mins

3 SERVINGS

20 min

3-4 SERVINGS

10 min

4 SERVINGS

10 mins

4 SERVINGS

Chipotle Butter Chicken Meatballs

15 min

4 SERVINGS

15 min

4 SERVINGS

5 min

4 SERVINGS

10 min

2 SERVINGS

10 min

2 SERVINGS

4 hrs (marinating time)

4 SERVINGS

30 min

6 SERVINGS

Spicy Beef and Capsicum Stir-Fry

20 min

4 SERVINGS

Cheesy Chicken & Broccoli Patties

10 min

4 SERVINGS

15min

4 SERVINGS

5min

4 SERVINGS

15min

4 SERVINGS

Golden Egg Tofu with Minced Chicken

10min

4 SERVINGS

45 min

6 SERVINGS

Picadinho (Brazilian Beef Stew) with Banana Farofa

20 min

4-5 SERVINGS

10 min

2 SERVINGS
Popular Recipes