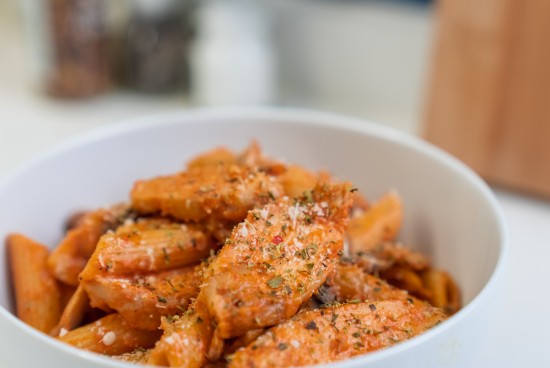 Pepper Grilled Rosé Pasta

5 mins

4 SERVINGS
INGREDIENTS
1 pack Pepper Grilled Chicken Breast, thawed
650g penne pasta
2 tbsp olive oil
2 tsp red chilli flakes
3 cloves garlic, minced
400g white button mushrooms
450ml tomato sauce
185g sour cream
Salt and pepper to taste
Some sugar (optional)
5 tbsp Parmigiano Reggiano / Parmesan, grated
METHOD
Cook the pasta according to the instructions on the package. While it is cooking, slice up the thawed Pepper Grilled Chicken Breast.
In a saucepan, heat the olive oil on mdium heat. Add chilli flakes, garlic, mushrooms, and season with some salt, sauteed until it is roasted brown.
Add the tomato sauce, salt, pepper, sugar for the sauce. Let it cook in medium to low heat for 5 minutes until it thickens, stirring it occasionally.
Add in sour cream and chicken then mix well. Let it cook for another 5 minutes. When it has a nice thick creamy texture, add in the cooked pasta.
Top it with freshly grated Parmigiano Reggiano, chopped basil and some crushed pepper before serving.
Pepper Grilled Chicken Breast
Other Recipes
NOT AVAILABLE

2 SERVINGS

35 mins

2 SERVINGS

30 mins

2 SERVINGS

40 min

2 SERVINGS

30 min

4 SERVINGS

10 mins

4-6 SERVINGS

20 mins

5 to 6 SERVINGS

30 mins

2 SERVINGS

35 mins

6 SERVINGS

Dak Galbi (Korean Spicy Chicken Stir Fry)

40 mins

2-3 SERVINGS

Claypot Chicken Rice in Rice Cooker

15 mins

4 SERVINGS

15 mins

4 SERVINGS

15 mins

4 SERVINGS

15 mins

2 SERVINGS

10 mins

3 to 4 SERVINGS

15 mins

2 SERVINGS

10 mins

2 SERVINGS

10 - 15 mins

4 SERVINGS

10 mins

4 SERVINGS

Taiwanese Style Three Cup Chicken

15 mins

2 SERVINGS

15 mins

8 SERVINGS

15 mins

4 SERVINGS

15 mins

4 SERVINGS

5 mins

2-3 SERVINGS

15 mins

2 SERVINGS

Coconut Stir Fry Noodles & Nasi Lemak Wings

5 mins

4 SERVINGS

15 mins

4 SERVINGS

5 mins

3 SERVINGS

20 min

3-4 SERVINGS

10 min

4 SERVINGS

10 mins

4 SERVINGS

20 mins

4 SERVINGS

Chipotle Butter Chicken Meatballs

15 min

4 SERVINGS

15 min

4 SERVINGS

5 min

4 SERVINGS

10 min

2 SERVINGS

10 min

2 SERVINGS

4 hrs (marinating time)

4 SERVINGS

30 min

6 SERVINGS

Spicy Beef and Capsicum Stir-Fry

20 min

4 SERVINGS

Cheesy Chicken & Broccoli Patties

10 min

4 SERVINGS

15min

4 SERVINGS

5min

4 SERVINGS

15min

4 SERVINGS

Golden Egg Tofu with Minced Chicken

10min

4 SERVINGS

45 min

6 SERVINGS

Picadinho (Brazilian Beef Stew) with Banana Farofa

20 min

4-5 SERVINGS

10 min

2 SERVINGS
Popular Recipes