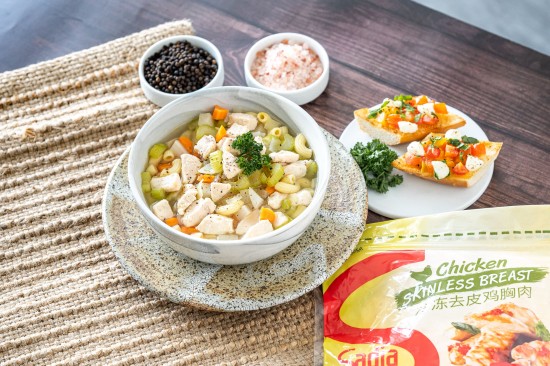 Quick Chick and Noodle Soup

15min

4 SERVINGS
INGREDIENTS
2 tbsp extra-virgin olive oil
2 nos carrots, peeled and chopped
1 white radish, peeled and chopped
1 medium onion, chopped
2 ribs celery, chopped
2 bay leaves, fresh or dried
Salt and pepper, to taste
1.5l chicken stock
500g Sadia One by One Chicken breast (skinless), diced
300g egg noodes or elbow macaroni, or Fettuccine
A handful fresh parsley, chopped
METHOD
Place a large pot over moderate heat and add extra-virgin olive oil
Add bay leaves and sauté chopped vegetables with salt and pepper, to taste. Add stock to the pot and raise flame to bring liquid to the boil
Add diced chicken and return soup to the boil
Simmer chicken and vegetables for 8 minutes and add noodles
Cook a few more minutes or until noodles are tender. If using macaroni, parboil separately before adding in soup. If using Fettuccine, you probably have to break them into shorter strands!
Stir in parsley and dill, remove bay leaves and serve.
One by One Chicken Breast (Skinless)
Other Recipes
NOT AVAILABLE

2 SERVINGS

35 mins

2 SERVINGS

30 mins

2 SERVINGS

40 min

2 SERVINGS

30 min

4 SERVINGS

10 mins

4-6 SERVINGS

20 mins

5 to 6 SERVINGS

30 mins

2 SERVINGS

35 mins

6 SERVINGS

Dak Galbi (Korean Spicy Chicken Stir Fry)

40 mins

2-3 SERVINGS

Claypot Chicken Rice in Rice Cooker

15 mins

4 SERVINGS

15 mins

4 SERVINGS

15 mins

4 SERVINGS

15 mins

2 SERVINGS

10 mins

3 to 4 SERVINGS

15 mins

2 SERVINGS

10 mins

2 SERVINGS

10 - 15 mins

4 SERVINGS

10 mins

4 SERVINGS

Taiwanese Style Three Cup Chicken

15 mins

2 SERVINGS

15 mins

8 SERVINGS

15 mins

4 SERVINGS

15 mins

4 SERVINGS

5 mins

2-3 SERVINGS

15 mins

2 SERVINGS

5 mins

4 SERVINGS

Coconut Stir Fry Noodles & Nasi Lemak Wings

5 mins

4 SERVINGS

15 mins

4 SERVINGS

5 mins

3 SERVINGS

20 min

3-4 SERVINGS

10 min

4 SERVINGS

10 mins

4 SERVINGS

20 mins

4 SERVINGS

Chipotle Butter Chicken Meatballs

15 min

4 SERVINGS

15 min

4 SERVINGS

5 min

4 SERVINGS

10 min

2 SERVINGS

10 min

2 SERVINGS

4 hrs (marinating time)

4 SERVINGS

30 min

6 SERVINGS

Spicy Beef and Capsicum Stir-Fry

20 min

4 SERVINGS

Cheesy Chicken & Broccoli Patties

10 min

4 SERVINGS

5min

4 SERVINGS

15min

4 SERVINGS

Golden Egg Tofu with Minced Chicken

10min

4 SERVINGS

45 min

6 SERVINGS

Picadinho (Brazilian Beef Stew) with Banana Farofa

20 min

4-5 SERVINGS

10 min

2 SERVINGS

10 min

5-6 SERVINGS

Chicken and Seaweed Rice Balls

15 min

4 SERVINGS
Popular Recipes