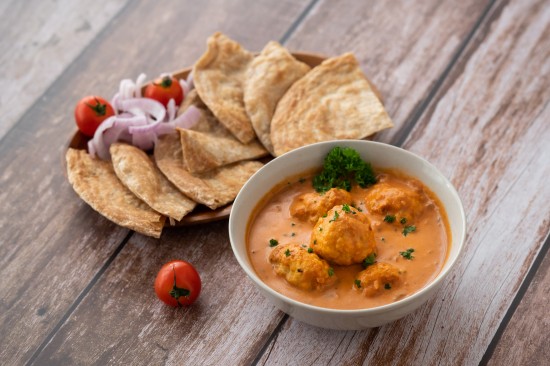 Chipotle Butter Chicken Meatballs

15 min

4 SERVINGS
INGREDIENTS
Meatball:
570g Sadia Minced Chicken
1 large egg
3/4 cup panko breadcrumbs
1/2 tsp garlic powder
1/2 tsp onion powder
1 tsp salt
1/2 tsp pepper
Chipotle Butter Sauce:
4 tbsp butter
1 medium onion, grated or minced
4 tsp garlic paste, or grated
1 can tomato puree
2 chipotle peppers
2 tsp smoked paprika
1 1/2 tsp cumin powder
1/2 cup water
3/4-1 cup heavy cream
Cilantro, chopped, to serve
METHOD
Preheat oven to 230°C. Line a baking sheet with parchment paper
Combine ingredients for meatball in a bowl, except minced chicken, and mix using a fork
Add Sadia Minced Chicken to the bowl and mix, without overworking the meat
Wet your hands and mould meatballs into golf-sized balls. Place meatballs on baking sheet and bake until cooked through, or for 15 mins
While waiting for the meatballs to bake, heat 2 tbsp butter in a sauté pan
Add onions with a pinch of salt. Cook until they soften and turn translucent
Stir in garlic paste, tomato puree, chipotle peppers, seasonings and water 30s later. Allow sauce to simmer before putting it on low heat. Let it simmer for another 10 mins
Stir in heavy cream and remaining butter
Add meatballs and let them sit in the sauce for a few minutes, And it's ready to be served!
Minced Chicken
Other Recipes
NOT AVAILABLE

2 SERVINGS

35 mins

2 SERVINGS

30 mins

2 SERVINGS

40 min

2 SERVINGS

30 min

4 SERVINGS

10 mins

4-6 SERVINGS

20 mins

5 to 6 SERVINGS

30 mins

2 SERVINGS

35 mins

6 SERVINGS

Dak Galbi (Korean Spicy Chicken Stir Fry)

40 mins

2-3 SERVINGS

Claypot Chicken Rice in Rice Cooker

15 mins

4 SERVINGS

15 mins

4 SERVINGS

15 mins

4 SERVINGS

15 mins

2 SERVINGS

10 mins

3 to 4 SERVINGS

15 mins

2 SERVINGS

10 mins

2 SERVINGS

10 - 15 mins

4 SERVINGS

10 mins

4 SERVINGS

Taiwanese Style Three Cup Chicken

15 mins

2 SERVINGS

15 mins

8 SERVINGS

15 mins

4 SERVINGS

15 mins

4 SERVINGS

5 mins

2-3 SERVINGS

15 mins

2 SERVINGS

5 mins

4 SERVINGS

Coconut Stir Fry Noodles & Nasi Lemak Wings

5 mins

4 SERVINGS

15 mins

4 SERVINGS

5 mins

3 SERVINGS

20 min

3-4 SERVINGS

10 min

4 SERVINGS

10 mins

4 SERVINGS

20 mins

4 SERVINGS

15 min

4 SERVINGS

5 min

4 SERVINGS

10 min

2 SERVINGS

10 min

2 SERVINGS

4 hrs (marinating time)

4 SERVINGS

30 min

6 SERVINGS

Spicy Beef and Capsicum Stir-Fry

20 min

4 SERVINGS

Cheesy Chicken & Broccoli Patties

10 min

4 SERVINGS

15min

4 SERVINGS

5min

4 SERVINGS

15min

4 SERVINGS

Golden Egg Tofu with Minced Chicken

10min

4 SERVINGS

45 min

6 SERVINGS

Picadinho (Brazilian Beef Stew) with Banana Farofa

20 min

4-5 SERVINGS

10 min

2 SERVINGS

10 min

5-6 SERVINGS

Chicken and Seaweed Rice Balls

15 min

4 SERVINGS
Popular Recipes