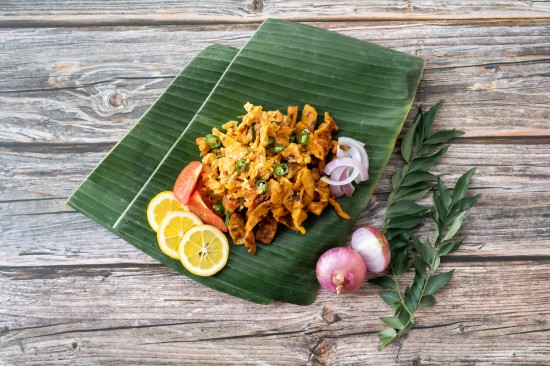 Chicken Kothu Parotta

10 mins

4 SERVINGS
INGREDIENTS
300g Sadia Chicken Boneless Leg, cut into bite-sized
40g ginger, sliced
4 cloves garlic
4 green chilli, chopped
3 tbsp vegetable oil
4 medium onions, finely chopped
1 tsp garam masala
4 whole tomatoes, chopped
2 eggs, scrambled
2 tsp red kashmiri chilli powder (or substitute with a mixture of paprika and cayenne)
1 tsp fennel powder
1 tsp coriander powder
12 pcs prata, shredded
10 curry leaves
Coriander leaves, chopped for garnish
Salt to taste"
METHOD
Grind ginger, garlic and green chillies together to form a paste
Heat oil in a large non-stick pan over medium heat. Add onions and saute for a few minutes, followed by the paste and garam masala.
Saute the mixture until onions are caramelised
Add tomatoes and cook till soft
Add chilli powder, fennel powder, coriander powder and salt. Combine well and cook for about a minute
Add scrambled eggs and chicken into the pan and cook for a minute
Add shredded prata and combine well
Add curry leaves and remove from heat. Garnish with coriander leaves and serve hot.
Chicken Boneless Leg
Other Recipes
NOT AVAILABLE

2 SERVINGS

35 mins

2 SERVINGS

30 mins

2 SERVINGS

40 min

2 SERVINGS

30 min

4 SERVINGS

10 mins

4-6 SERVINGS

20 mins

5 to 6 SERVINGS

30 mins

2 SERVINGS

35 mins

6 SERVINGS

Dak Galbi (Korean Spicy Chicken Stir Fry)

40 mins

2-3 SERVINGS

Claypot Chicken Rice in Rice Cooker

15 mins

4 SERVINGS

15 mins

4 SERVINGS

15 mins

4 SERVINGS

15 mins

2 SERVINGS

10 mins

3 to 4 SERVINGS

15 mins

2 SERVINGS

10 mins

2 SERVINGS

10 - 15 mins

4 SERVINGS

10 mins

4 SERVINGS

Taiwanese Style Three Cup Chicken

15 mins

2 SERVINGS

15 mins

8 SERVINGS

15 mins

4 SERVINGS

15 mins

4 SERVINGS

5 mins

2-3 SERVINGS

15 mins

2 SERVINGS

5 mins

4 SERVINGS

Coconut Stir Fry Noodles & Nasi Lemak Wings

5 mins

4 SERVINGS

15 mins

4 SERVINGS

5 mins

3 SERVINGS

20 min

3-4 SERVINGS

10 min

4 SERVINGS

20 mins

4 SERVINGS

Chipotle Butter Chicken Meatballs

15 min

4 SERVINGS

15 min

4 SERVINGS

5 min

4 SERVINGS

10 min

2 SERVINGS

10 min

2 SERVINGS

4 hrs (marinating time)

4 SERVINGS

30 min

6 SERVINGS

Spicy Beef and Capsicum Stir-Fry

20 min

4 SERVINGS

Cheesy Chicken & Broccoli Patties

10 min

4 SERVINGS

15min

4 SERVINGS

5min

4 SERVINGS

15min

4 SERVINGS

Golden Egg Tofu with Minced Chicken

10min

4 SERVINGS

45 min

6 SERVINGS

Picadinho (Brazilian Beef Stew) with Banana Farofa

20 min

4-5 SERVINGS

10 min

2 SERVINGS

10 min

5-6 SERVINGS

Chicken and Seaweed Rice Balls

15 min

4 SERVINGS
Popular Recipes