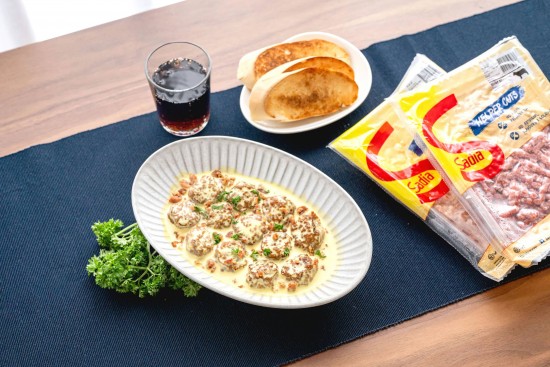 Carbonara Meatballs

10 min

5-6 SERVINGS
INGREDIENTS
300g (1 packet) of Sadia Beef Minced
300g (1 packet) of Sadia Minced Chicken
85g bacon, diced (alternative: turkey bacon)
3 medium egg yolks
120ml or ½ cup cream
1 tbsp olive oil
1 tbsp unsalted butter
Salt and pepper to taste
METHOD
Add both minced meats into a bowl, adding some salt and pepper for seasoning. Shape into balls of preferred size. Add olive oil and butter to pan on medium heat. Then add meatballs into the pan.
Heat meatballs for 5 minutes until browned on the outside. Cover the pan, lower the heat and cook the meatballs for 10 minutes until cooked through. Stir regularly. Add extra olive oil or butter if necessary.
Place meatballs on a clean plate and cover with tinfoil. Add diced bacon into the same pan, season with a dash of pepper.
Cook the bacon for 4-5 minutes. Once cooked, set aside. Then add cream into the pan (keep 2 tablespoons of the cream aside).
Bring the cream to a light simmer, don't let it boil, and stir well. In a separate bowl, combine the yolks and leftover cream - then pour the yolk mixture into the pan in a steady stream and whisk fast to mix thoroughly.
Simmer the carbonara sauce over medium heat. Stir constantly for about 4 minutes until the sauce is slightly thickened. Then add in the cooked bacon.
Lastly, add the cooked meatballs in and stir to mix well. Add extra salt and pepper to taste if needed.
Cover the pan and let the meatballs simmer in the sauce for another 1-2 minutes. Then scoop the carbonara sauce meatballs onto deep plates, garnish with some chopped parsley and serve hot. Have it with some breadsticks if you like!
Beef Minced
Other Recipes
NOT AVAILABLE

2 SERVINGS

35 mins

2 SERVINGS

30 mins

2 SERVINGS

40 min

2 SERVINGS

30 min

4 SERVINGS

10 mins

4-6 SERVINGS

20 mins

5 to 6 SERVINGS

30 mins

2 SERVINGS

35 mins

6 SERVINGS

Dak Galbi (Korean Spicy Chicken Stir Fry)

40 mins

2-3 SERVINGS

Claypot Chicken Rice in Rice Cooker

15 mins

4 SERVINGS

15 mins

4 SERVINGS

15 mins

4 SERVINGS

15 mins

2 SERVINGS

10 mins

3 to 4 SERVINGS

15 mins

2 SERVINGS

10 mins

2 SERVINGS

10 - 15 mins

4 SERVINGS

10 mins

4 SERVINGS

Taiwanese Style Three Cup Chicken

15 mins

2 SERVINGS

15 mins

8 SERVINGS

15 mins

4 SERVINGS

15 mins

4 SERVINGS

5 mins

2-3 SERVINGS

15 mins

2 SERVINGS

5 mins

4 SERVINGS

Coconut Stir Fry Noodles & Nasi Lemak Wings

5 mins

4 SERVINGS

15 mins

4 SERVINGS

5 mins

3 SERVINGS

20 min

3-4 SERVINGS

10 min

4 SERVINGS

10 mins

4 SERVINGS

20 mins

4 SERVINGS

Chipotle Butter Chicken Meatballs

15 min

4 SERVINGS

15 min

4 SERVINGS

5 min

4 SERVINGS

10 min

2 SERVINGS

10 min

2 SERVINGS

4 hrs (marinating time)

4 SERVINGS

30 min

6 SERVINGS

Spicy Beef and Capsicum Stir-Fry

20 min

4 SERVINGS

Cheesy Chicken & Broccoli Patties

10 min

4 SERVINGS

15min

4 SERVINGS

5min

4 SERVINGS

15min

4 SERVINGS

Golden Egg Tofu with Minced Chicken

10min

4 SERVINGS

45 min

6 SERVINGS

Picadinho (Brazilian Beef Stew) with Banana Farofa

20 min

4-5 SERVINGS

10 min

2 SERVINGS

Chicken and Seaweed Rice Balls

15 min

4 SERVINGS
Popular Recipes