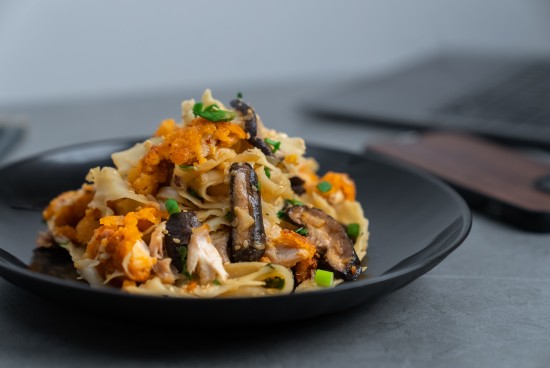 Coconut Stir Fry Noodles & Nasi Lemak Wings

5 mins

4 SERVINGS
INGREDIENTS
1 pack Nasi Lemak Chicken Wings
150g noodles of your choice
176g shiitake mushrooms,sliced
26g green onions, sliced
2 tbsp soy sauce
1 tbsp sesame oil
1/2 tbsp chili oil
1 tsp sesame seeds
1 1⁄2 tbsp coconut milk
METHOD
Begin by boiling your noodles according to the package instructions. Strain and set aside.
Airfry the Nasi Lemak Chicken Wings for 14-15 minutes at 200°C.
Slice the mushrooms and green onions. Then in a pan, sauté and grill the sliced mushrooms with soy sauce and sesame oil for about 10 minutes until they are grilled through.
In the same pan, add in the cooked noodles.
Mix in green onions, chilli oil, sesame seeds and coconut milk (Add some olive oil if it's too dry). Let the flavours combine and stir well for 3-4 minutes. Then set it aside.
Shred the Nasi Lemak Chicken Wings and add them into the noodle mixture, lightly toss to coat the chicken well.
Top it off with some green onions and serve!
Nasi Lemak Chicken Wings
Other Recipes
NOT AVAILABLE

2 SERVINGS

35 mins

2 SERVINGS

30 mins

2 SERVINGS

40 min

2 SERVINGS

30 min

4 SERVINGS

10 mins

4-6 SERVINGS

20 mins

5 to 6 SERVINGS

30 mins

2 SERVINGS

35 mins

6 SERVINGS

Dak Galbi (Korean Spicy Chicken Stir Fry)

40 mins

2-3 SERVINGS

Claypot Chicken Rice in Rice Cooker

15 mins

4 SERVINGS

15 mins

4 SERVINGS

15 mins

4 SERVINGS

15 mins

2 SERVINGS

10 mins

3 to 4 SERVINGS

15 mins

2 SERVINGS

10 mins

2 SERVINGS

10 - 15 mins

4 SERVINGS

10 mins

4 SERVINGS

Taiwanese Style Three Cup Chicken

15 mins

2 SERVINGS

15 mins

8 SERVINGS

15 mins

4 SERVINGS

15 mins

4 SERVINGS

5 mins

2-3 SERVINGS

15 mins

2 SERVINGS

5 mins

4 SERVINGS

15 mins

4 SERVINGS

5 mins

3 SERVINGS

20 min

3-4 SERVINGS

10 min

4 SERVINGS

10 mins

4 SERVINGS

20 mins

4 SERVINGS

Chipotle Butter Chicken Meatballs

15 min

4 SERVINGS

15 min

4 SERVINGS

5 min

4 SERVINGS

10 min

2 SERVINGS

10 min

2 SERVINGS

4 hrs (marinating time)

4 SERVINGS

30 min

6 SERVINGS
Popular Recipes