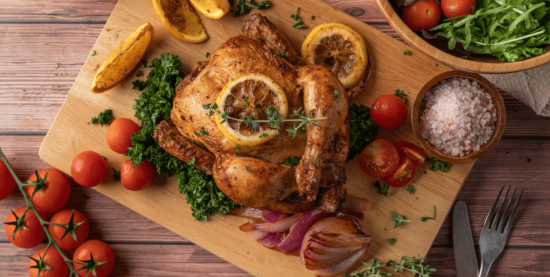 Roasted Christmas Chicken

20 mins

5 to 6 SERVINGS
INGREDIENTS
2 Sadia chicken griller (2kg total)
1 tablespoons dried parsley
1 tablespoons ground dried rosemary
1 tablespoons rubbed dried sage
1 tablespoons dried thyme leaves
1/2 tablespoon lemon pepper
1/2 tablespoon salt
2 stalks celery, chopped
1 orange, cut into wedges
1 onion, chopped
1 carrot, chopped
1 500ml chicken broth
METHOD
Preheat the oven to 180℃.
Line the chicken grillers with aluminum foil. Make sure the foil is long enough to wrap over the chicken.
In a small bowl, stir together the parsley, rosemary, sage, thyme, lemon pepper, and salt. Rub this herb mixture into the cavity of the chicken.
Continue to stuff the chicken with celery, orange, onion, and carrot. Truss the chicken if you like, and place the chicken on the roasting pan.
Pour the chicken broth over the chicken, making sure to get some in the cavity.
Create a foil tent by bringing the aluminum foil over the top of the chicken, and seal. Keep the foil from touching the skin of the chicken.
Bake the chicken in the preheated oven for 1.5 hours until the chicken is no longer pink inside and the juices run clear.
Uncover the chicken and continue baking until the skin turns golden brown for 30 minutes.
Once time is up, remove the chicken from the oven. Cover it with two sheets of aluminum foil.
Allow the chicken to rest in a warm area for 10-15 minutes before slicing.
Other Recipes
NOT AVAILABLE

2 SERVINGS

35 mins

2 SERVINGS

30 mins

2 SERVINGS

40 min

2 SERVINGS

30 min

4 SERVINGS

10 mins

4-6 SERVINGS

30 mins

2 SERVINGS

35 mins

6 SERVINGS

Dak Galbi (Korean Spicy Chicken Stir Fry)

40 mins

2-3 SERVINGS

Claypot Chicken Rice in Rice Cooker

15 mins

4 SERVINGS

15 mins

4 SERVINGS

15 mins

4 SERVINGS

15 mins

2 SERVINGS

10 mins

3 to 4 SERVINGS

15 mins

2 SERVINGS

10 mins

2 SERVINGS

10 - 15 mins

4 SERVINGS

10 mins

4 SERVINGS

Taiwanese Style Three Cup Chicken

15 mins

2 SERVINGS

15 mins

8 SERVINGS

15 mins

4 SERVINGS

15 mins

4 SERVINGS

5 mins

2-3 SERVINGS

15 mins

2 SERVINGS

5 mins

4 SERVINGS

Coconut Stir Fry Noodles & Nasi Lemak Wings

5 mins

4 SERVINGS

15 mins

4 SERVINGS

5 mins

3 SERVINGS

20 min

3-4 SERVINGS

10 min

4 SERVINGS

10 mins

4 SERVINGS

20 mins

4 SERVINGS

Chipotle Butter Chicken Meatballs

15 min

4 SERVINGS

15 min

4 SERVINGS

5 min

4 SERVINGS

10 min

2 SERVINGS

10 min

2 SERVINGS

4 hrs (marinating time)

4 SERVINGS

30 min

6 SERVINGS

Spicy Beef and Capsicum Stir-Fry

20 min

4 SERVINGS

Cheesy Chicken & Broccoli Patties

10 min

4 SERVINGS

15min

4 SERVINGS

5min

4 SERVINGS

15min

4 SERVINGS

Golden Egg Tofu with Minced Chicken

10min

4 SERVINGS

45 min

6 SERVINGS

Picadinho (Brazilian Beef Stew) with Banana Farofa

20 min

4-5 SERVINGS

10 min

2 SERVINGS
Popular Recipes