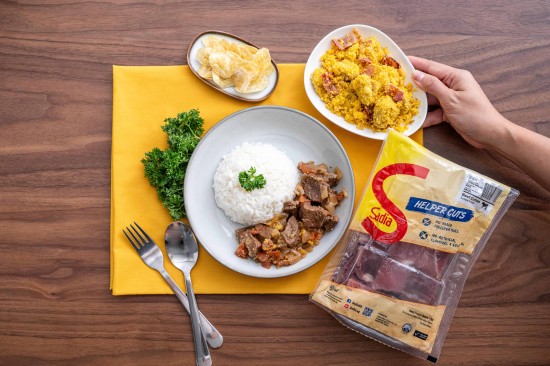 Picadinho (Brazilian Beef Stew) with Banana Farofa

20 min

4-5 SERVINGS
INGREDIENTS
For Picadinho:
1kg (2 packets of) Sadia Beef Cubes
salt and ground black pepper, to taste
2 tbsp olive oil
1 large onion, chopped
2 tomatoes, chopped
4 cloves garlic, minced
⅓ cup chopped parsley
1 tsp paprika
2 tbsp Worcestershire sauce
3 cups beef broth
2 tbsp butter
cooked rice
For Banana Farofa:
2 tbsp olive oil
2 bananas, sliced
4 bacon strips, chopped
1 onion, chopped
2 cloves garlic, minced
2 tbsp unsalted butter
1 cup polenta flour
¼ cup chopped parsley
salt and ground pepper, to taste
METHOD
Heat olive oil over high heat and add meat seaoned with salt and pepper. Cook until evenly browned.
Throw in the onion and garlic and sauté until fragrant (2min) then add in tomatoes, paprika, Worcestershire sauce, parsley, butter, and salt and pepper to taste. Cook them altogether for 3-4 minutes.
Add broth and let it come to a boil before lowering heat for all the ingredients to simmer for 20 minutes until the meat is tender.
Turn heat back to high and cook it until liquid reduces and thickens (~1 cup). Serve it on one side of the plate.
Next to prep the Banana Farofa, heat olive oil on high and sauté bananas in the pan. Keep it quick or they might get too soft and mushy. Set aside. Stir in the parsley and season with salt and pepper to taste
Fry bacon (turkey or chicken bacon works for the Halal diet) until crispy and golden then add onion and garlic, sauté until it caramelizes.
Throw in the banana and butter, cook for 2-3 minutes. Then stir in the flour (½ cup at a time) and gently cook to combine.
Sprinkle parsley over and mix them to serve with the set aside beef stew and rice if you would like!
Beef Cubes
Other Recipes
NOT AVAILABLE

2 SERVINGS

35 mins

2 SERVINGS

30 mins

2 SERVINGS

40 min

2 SERVINGS

30 min

4 SERVINGS

10 mins

4-6 SERVINGS

20 mins

5 to 6 SERVINGS

30 mins

2 SERVINGS

35 mins

6 SERVINGS

Dak Galbi (Korean Spicy Chicken Stir Fry)

40 mins

2-3 SERVINGS

Claypot Chicken Rice in Rice Cooker

15 mins

4 SERVINGS

15 mins

4 SERVINGS

15 mins

4 SERVINGS

15 mins

2 SERVINGS

10 mins

3 to 4 SERVINGS

15 mins

2 SERVINGS

10 mins

2 SERVINGS

10 - 15 mins

4 SERVINGS

10 mins

4 SERVINGS

Taiwanese Style Three Cup Chicken

15 mins

2 SERVINGS

15 mins

8 SERVINGS

15 mins

4 SERVINGS

15 mins

4 SERVINGS

5 mins

2-3 SERVINGS

15 mins

2 SERVINGS

5 mins

4 SERVINGS

Coconut Stir Fry Noodles & Nasi Lemak Wings

5 mins

4 SERVINGS

15 mins

4 SERVINGS

5 mins

3 SERVINGS

20 min

3-4 SERVINGS

10 min

4 SERVINGS

10 mins

4 SERVINGS

20 mins

4 SERVINGS

Chipotle Butter Chicken Meatballs

15 min

4 SERVINGS

15 min

4 SERVINGS

5 min

4 SERVINGS

10 min

2 SERVINGS

10 min

2 SERVINGS

4 hrs (marinating time)

4 SERVINGS

30 min

6 SERVINGS

Spicy Beef and Capsicum Stir-Fry

20 min

4 SERVINGS

Cheesy Chicken & Broccoli Patties

10 min

4 SERVINGS

15min

4 SERVINGS

5min

4 SERVINGS

15min

4 SERVINGS

Golden Egg Tofu with Minced Chicken

10min

4 SERVINGS

45 min

6 SERVINGS

10 min

2 SERVINGS

10 min

5-6 SERVINGS

Chicken and Seaweed Rice Balls

15 min

4 SERVINGS
Popular Recipes