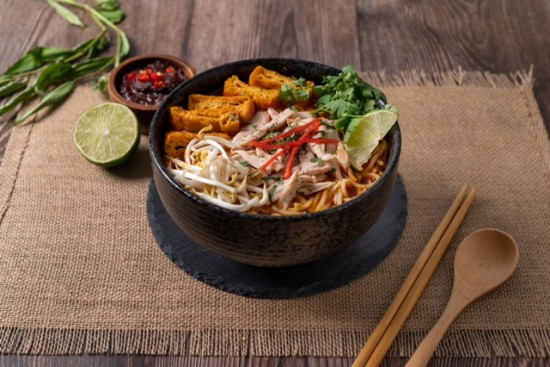 Chicken Laksa Noodles

15 mins

2 SERVINGS
INGREDIENTS
For chicken stock:
500ml chicken broth
1 cup water
4 chicken drumsticks
For laksa broth:
1 1/2 tbsp oil
2 garlic cloves, minced
2cm piece of ginger, grated
1 lemongrass, white part grated
2 bird eye chilli, finely chopped
175g laksa paste
400g coconut milk
2 tsp fish sauce, or soy sauce
For noodles and toppings:
50g vermicelli noodles, dried
80g bean sprouts
80g tofu puffs, cut in half
For laksa chilli sauce:
1/2 tsp sugar, white
1 1/2 tsp soy sauce, light or all purpose
1/2 garlic clove, minced
1 1/2 tsp laksa paste
1 tbsp sriracha sauce
1 tbsp vegetable oil
Garnish:
Laksa Leaves, finely chopped
Lime wedges
Crispy fried shallots
Red chilli, freshly sliced
METHOD
Prepare the chicken stock. Start by placing the Chicken Stock ingredients in a medium saucepan over high heat. Bring heat down to a simmer.
Cook for 25 minutes or until chicken flesh is falling off the bone and liquid reduces by about 1/3.
Discard skin, pull flesh off the bone and place in bowl, discard bone. Set broth aside.
Next, prepare the laksa chilli sauce by mixing the ingredients together in a small bowl. Set aside for 20 minutes.
Next, prepare the laksa broth. Heat oil in a large saucepan or small pot over medium low heat. Add garlic and ginger, sauté for 20 seconds, then add lemongrass and chillis. Cook for 1 minute.
Add laksa paste to the pan. Turn heat up to medium and cook for 2 minutes, stirring constantly, or until fragrant.
Add chicken stock, coconut milk, fish sauce and 2 tsp of Laksa Chilli Sauce. Place lid on and simmer on for 10 minutes.
Add tofu puffs. Turn off heat and leave lid on for 5 minutes.
To put the laksa together, prepare noodles per packet directions.
Portion out 2 bowls of noodles. Top with shredded chicken.
Pour broth over chicken. Top with beansprouts and garnishes. Serve with Laksa Chilli Sauce on the side.
Chicken Drumstick
Other Recipes
NOT AVAILABLE

2 SERVINGS

35 mins

2 SERVINGS

30 mins

2 SERVINGS

40 min

2 SERVINGS

30 min

4 SERVINGS

10 mins

4-6 SERVINGS

20 mins

5 to 6 SERVINGS

30 mins

2 SERVINGS

35 mins

6 SERVINGS

Dak Galbi (Korean Spicy Chicken Stir Fry)

40 mins

2-3 SERVINGS

Claypot Chicken Rice in Rice Cooker

15 mins

4 SERVINGS

15 mins

4 SERVINGS

15 mins

4 SERVINGS

15 mins

2 SERVINGS

10 mins

3 to 4 SERVINGS

10 mins

2 SERVINGS

10 - 15 mins

4 SERVINGS

10 mins

4 SERVINGS

Taiwanese Style Three Cup Chicken

15 mins

2 SERVINGS

15 mins

8 SERVINGS

15 mins

4 SERVINGS

15 mins

4 SERVINGS

5 mins

2-3 SERVINGS

15 mins

2 SERVINGS

5 mins

4 SERVINGS

Coconut Stir Fry Noodles & Nasi Lemak Wings

5 mins

4 SERVINGS

15 mins

4 SERVINGS

5 mins

3 SERVINGS

20 min

3-4 SERVINGS

10 min

4 SERVINGS

10 mins

4 SERVINGS

20 mins

4 SERVINGS

Chipotle Butter Chicken Meatballs

15 min

4 SERVINGS

15 min

4 SERVINGS

5 min

4 SERVINGS

10 min

2 SERVINGS

10 min

2 SERVINGS

4 hrs (marinating time)

4 SERVINGS

30 min

6 SERVINGS

Spicy Beef and Capsicum Stir-Fry

20 min

4 SERVINGS

Cheesy Chicken & Broccoli Patties

10 min

4 SERVINGS

15min

4 SERVINGS

5min

4 SERVINGS

15min

4 SERVINGS

Golden Egg Tofu with Minced Chicken

10min

4 SERVINGS

45 min

6 SERVINGS

Picadinho (Brazilian Beef Stew) with Banana Farofa

20 min

4-5 SERVINGS

10 min

2 SERVINGS
Popular Recipes