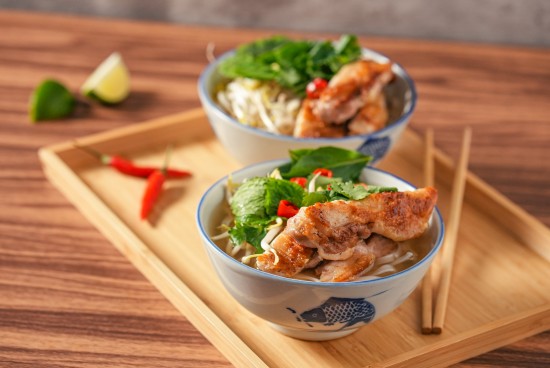 Chicken Pho (Pho Ga)

5min

4 SERVINGS
INGREDIENTS
1 pack Sadia Chicken Boneless Leg (use 2-3 pcs only, thinly sliced)
Salt and pepper, to taste
2 tbsp oil (for searing the chicken)
8 cups low-sodium chicken broth (store bought or home-made)
8 slices ginger (julienned)
2 red chilies (sliced, optional)
3 tbsp fish sauce
1 tbsp sugar
340g dried rice noodles
100g fresh bean sprouts
40g fresh mint leaves
40g fresh cilantro
40g Thai basil
Lime wedges
METHOD
Bring chicken stock to the boil in a medium pot, along with the ginger, fish sauce, and sugar. Simmer for 15 minutes
Meanwhile, season chicken slices with salt and pepper
In a skillet, heat 2 tablespoons oil over high heat. Sear the chicken, and set aside
Cook the rice noodles according to package instructions just before you're ready to serve
To assemble, start with portioning the noodles into 4 bowls, and then add the soup, sliced chicken, bean sprouts, mint, cilantro and basil, and sliced chillies if preferred
Serve with lime wedges, fish sauce and bird's eye chillies, if preferred.
Chicken Boneless Leg
Other Recipes
NOT AVAILABLE

2 SERVINGS

35 mins

2 SERVINGS

30 mins

2 SERVINGS

40 min

2 SERVINGS

30 min

4 SERVINGS

10 mins

4-6 SERVINGS

20 mins

5 to 6 SERVINGS

30 mins

2 SERVINGS

35 mins

6 SERVINGS

Dak Galbi (Korean Spicy Chicken Stir Fry)

40 mins

2-3 SERVINGS

Claypot Chicken Rice in Rice Cooker

15 mins

4 SERVINGS

15 mins

4 SERVINGS

15 mins

4 SERVINGS

15 mins

2 SERVINGS

10 mins

3 to 4 SERVINGS

15 mins

2 SERVINGS

10 mins

2 SERVINGS

10 - 15 mins

4 SERVINGS

10 mins

4 SERVINGS

Taiwanese Style Three Cup Chicken

15 mins

2 SERVINGS

15 mins

8 SERVINGS

15 mins

4 SERVINGS

15 mins

4 SERVINGS

5 mins

2-3 SERVINGS

15 mins

2 SERVINGS

5 mins

4 SERVINGS

Coconut Stir Fry Noodles & Nasi Lemak Wings

5 mins

4 SERVINGS

15 mins

4 SERVINGS

5 mins

3 SERVINGS

20 min

3-4 SERVINGS

10 min

4 SERVINGS

10 mins

4 SERVINGS

20 mins

4 SERVINGS

Chipotle Butter Chicken Meatballs

15 min

4 SERVINGS

15 min

4 SERVINGS

5 min

4 SERVINGS

10 min

2 SERVINGS

10 min

2 SERVINGS

4 hrs (marinating time)

4 SERVINGS

30 min

6 SERVINGS

Spicy Beef and Capsicum Stir-Fry

20 min

4 SERVINGS

Cheesy Chicken & Broccoli Patties

10 min

4 SERVINGS

15min

4 SERVINGS

15min

4 SERVINGS

Golden Egg Tofu with Minced Chicken

10min

4 SERVINGS

45 min

6 SERVINGS

Picadinho (Brazilian Beef Stew) with Banana Farofa

20 min

4-5 SERVINGS

10 min

2 SERVINGS

10 min

5-6 SERVINGS

Chicken and Seaweed Rice Balls

15 min

4 SERVINGS
Popular Recipes