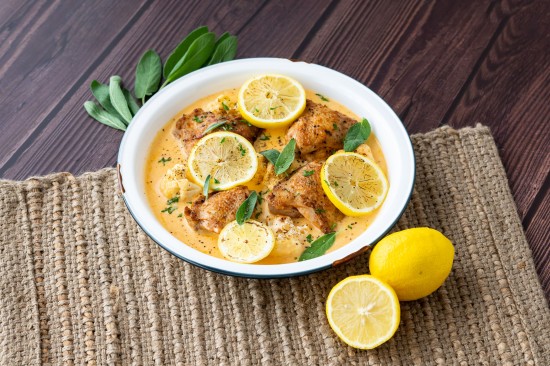 One Pan Lemon Sage Chicken

15 min

4 SERVINGS
INGREDIENTS
4 pcs Sadia Chicken Thigh or leftover roast chicken
1 tbsp smoked paprika
1 tsp sea salt
1 tsp ground pepper
3 tbsp salted butter, divided
400g cauliflower florets
3 garlic cloves, minced
1/2 cup chicken broth
1/2 cup heavy cream
1/3 cup parmesan, shredded
1 lemon, juiced
Lemon slices, for garnish (optional)
1 tbsp sage leaves, chopped
METHOD
Preheat oven to 180°C. Season Sadia Chicken Thigh on both sides with paprika, salt and pepper
In a large oven-proof skillet, melt 2 tbsp of butter over medium-high heat
Add chicken and sear on both sides until golden brown, about 3 min per side
Remove chicken and set aside
Add remaining butter to pan and cook cauliflower and garlic. Stir occasionally, until browned, about 3 min
Stir in chicken broth, heavy cream, parmesan, lemon juice and sage. Cook until sauce begins to bubble, about 5 min
Place chicken back in pan to cook in oven. Roast for 13-15 min, or until chicken is cooked through and not pink in centre
Garnish with lemon slices and serve hot. Leftovers can be stored in an airtight container in the fridge for up to a week.
Chicken Thigh
Other Recipes
NOT AVAILABLE

2 SERVINGS

35 mins

2 SERVINGS

30 mins

2 SERVINGS

40 min

2 SERVINGS

30 min

4 SERVINGS

10 mins

4-6 SERVINGS

20 mins

5 to 6 SERVINGS

30 mins

2 SERVINGS

35 mins

6 SERVINGS

Dak Galbi (Korean Spicy Chicken Stir Fry)

40 mins

2-3 SERVINGS

Claypot Chicken Rice in Rice Cooker

15 mins

4 SERVINGS

15 mins

4 SERVINGS

15 mins

4 SERVINGS

15 mins

2 SERVINGS

10 mins

3 to 4 SERVINGS

15 mins

2 SERVINGS

10 mins

2 SERVINGS

10 - 15 mins

4 SERVINGS

10 mins

4 SERVINGS

Taiwanese Style Three Cup Chicken

15 mins

2 SERVINGS

15 mins

8 SERVINGS

15 mins

4 SERVINGS

15 mins

4 SERVINGS

5 mins

2-3 SERVINGS

15 mins

2 SERVINGS

5 mins

4 SERVINGS

Coconut Stir Fry Noodles & Nasi Lemak Wings

5 mins

4 SERVINGS

15 mins

4 SERVINGS

5 mins

3 SERVINGS

20 min

3-4 SERVINGS

10 min

4 SERVINGS

10 mins

4 SERVINGS

20 mins

4 SERVINGS

Chipotle Butter Chicken Meatballs

15 min

4 SERVINGS

5 min

4 SERVINGS

10 min

2 SERVINGS

10 min

2 SERVINGS

4 hrs (marinating time)

4 SERVINGS

30 min

6 SERVINGS

Spicy Beef and Capsicum Stir-Fry

20 min

4 SERVINGS

Cheesy Chicken & Broccoli Patties

10 min

4 SERVINGS

15min

4 SERVINGS
Popular Recipes