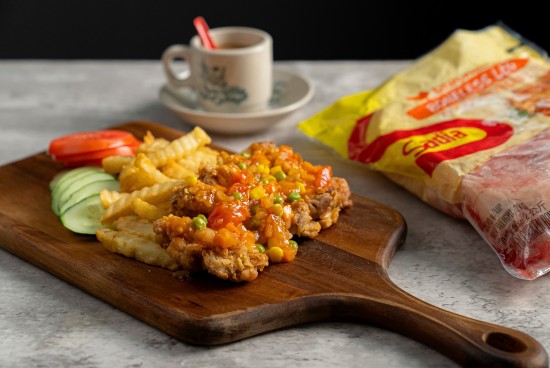 Hainanese Chicken Chop

10 min

2 SERVINGS
INGREDIENTS
1 pack Sadia Chicken Boneless Leg (use 2 pcs only)
1 1/2 tsp of salt
1 tsp of white pepper
1 tbsp of vinegar
2 tbsp of soy sauce
1 ½ tsp of sugar
1 egg, beaten
100g of rice flour
100g of cornflour
Vegetable oil (for shallow frying)
200g of frozen fries
Gravy:
1 clove of garlic, chopped
1 white onion, diced
1 tomato, cut into wedges
1 tbsp of oyster sauce
2 tbsp of tomato ketchup
1 tsp of soy sauce
150g of frozen mixed vegetables
1 tbsp of cornflour
300ml of water
1 tsp of salt
1/2 tsp of black pepper
1 tsp of sugar
METHOD
Add chicken legs in a large bowl and season with salt, pepper, vinegar, soy sauce, and sugar. Mix well. Then add in beaten egg, ensure the chicken legs are well coated.
On a plate, mix rice flour and cornflour together, then transfer the marinated chicken to the plate, coating all sides thoroughly with the batter.
In a pan over high heat, add enough oil for shallow-frying. Use a tong and gently place the battered chicken into the pan and fry for about 8 minutes on each side till golden brown and crispy. Remove chicken from pan and drain excess oil on a paper towel.
Airfry or deep fry the frozen fries according to the packaging instructions.
Pour away some oil then toss in the garlic, onion and tomatoes. Stir fry for 1 minute on medium-high heat for about 2-3 minutes. Then add oyster sauce, tomato ketchup, soy sauce, frozen vegetables, and fry for another minute.
Mix cornflour with water and add it into the pan, then season with salt, pepper, and sugar. Stir well until it reduces and thickens.
Ladle sauce over fried chicken chop and serve it while it's warm and crispy!
Chicken Boneless Leg
Other Recipes
NOT AVAILABLE

2 SERVINGS

35 mins

2 SERVINGS

30 mins

2 SERVINGS

40 min

2 SERVINGS

30 min

4 SERVINGS

10 mins

4-6 SERVINGS

20 mins

5 to 6 SERVINGS

30 mins

2 SERVINGS

35 mins

6 SERVINGS

Dak Galbi (Korean Spicy Chicken Stir Fry)

40 mins

2-3 SERVINGS

Claypot Chicken Rice in Rice Cooker

15 mins

4 SERVINGS

15 mins

4 SERVINGS

15 mins

4 SERVINGS

15 mins

2 SERVINGS

10 mins

3 to 4 SERVINGS

15 mins

2 SERVINGS

10 mins

2 SERVINGS

10 - 15 mins

4 SERVINGS

10 mins

4 SERVINGS

Taiwanese Style Three Cup Chicken

15 mins

2 SERVINGS

15 mins

8 SERVINGS

15 mins

4 SERVINGS

15 mins

4 SERVINGS

5 mins

2-3 SERVINGS

15 mins

2 SERVINGS

5 mins

4 SERVINGS

Coconut Stir Fry Noodles & Nasi Lemak Wings

5 mins

4 SERVINGS

15 mins

4 SERVINGS

5 mins

3 SERVINGS

20 min

3-4 SERVINGS

10 min

4 SERVINGS

10 mins

4 SERVINGS

20 mins

4 SERVINGS

Chipotle Butter Chicken Meatballs

15 min

4 SERVINGS

15 min

4 SERVINGS

5 min

4 SERVINGS

10 min

2 SERVINGS

10 min

2 SERVINGS

4 hrs (marinating time)

4 SERVINGS

30 min

6 SERVINGS

Spicy Beef and Capsicum Stir-Fry

20 min

4 SERVINGS

Cheesy Chicken & Broccoli Patties

10 min

4 SERVINGS

15min

4 SERVINGS

5min

4 SERVINGS

15min

4 SERVINGS

Golden Egg Tofu with Minced Chicken

10min

4 SERVINGS

45 min

6 SERVINGS

Picadinho (Brazilian Beef Stew) with Banana Farofa

20 min

4-5 SERVINGS

10 min

5-6 SERVINGS

Chicken and Seaweed Rice Balls

15 min

4 SERVINGS
Popular Recipes