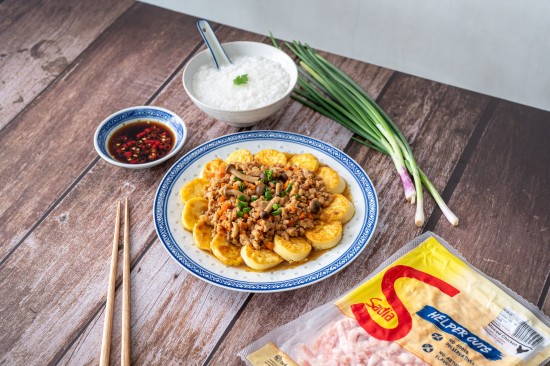 Golden Egg Tofu with Minced Chicken

10min

4 SERVINGS
INGREDIENTS
1/3 pack Sadia minced chicken
1 tbsp cooking oil + more for panfrying tofu
1 tube egg tofu (cut into pieces)
1 pack shimeiji mushroom
1/2 carrot, diced
1 tsp minced garlic
1 tsp minced ginger
2 tbsp water
Diced spring onion
2 tsp oyster sauce
1 tsp light soya
1 tsp shallot oil (to marinate meat)
1 tsp corn flour (to marinate meat)
1 tsp cooking wine
1 tsp sugar
1/2 tsp dark soya
Sprinkle of pepper
100ml water
METHOD
Heat cooking oil on pan and panfry tofu until both sides turn golden brown. Retrieve and set aside on paper towels to remove excess oil.
Use remaining cooking oil in pan to sauté minced garlic and ginger till fragrant.
Create seasoning by stirring together oyster sauce, light soya, cooking wine, sugar, dark soya and water, then cook seasoning together with frying pan ingredients.
Toss in diced carrots and 2 tbsp of water to prevent drying out. Then add mushrooms and mix well with the rest of the seasoning.
When the sauce comes to a simmer, add in the fried golden brown tofu you set aside earlier. Mix them all together and sitr them gently, before letting the pan sit for 2-3 more minutes.
Turn off the stove and sprinkle over with the spring onion. Serve hot to enjoy!
Minced Chicken
Other Recipes
NOT AVAILABLE

2 SERVINGS

35 mins

2 SERVINGS

30 mins

2 SERVINGS

40 min

2 SERVINGS

30 min

4 SERVINGS

10 mins

4-6 SERVINGS

20 mins

5 to 6 SERVINGS

30 mins

2 SERVINGS

35 mins

6 SERVINGS

Dak Galbi (Korean Spicy Chicken Stir Fry)

40 mins

2-3 SERVINGS

Claypot Chicken Rice in Rice Cooker

15 mins

4 SERVINGS

15 mins

4 SERVINGS

15 mins

4 SERVINGS

15 mins

2 SERVINGS

10 mins

3 to 4 SERVINGS

15 mins

2 SERVINGS

10 mins

2 SERVINGS

10 - 15 mins

4 SERVINGS

10 mins

4 SERVINGS

Taiwanese Style Three Cup Chicken

15 mins

2 SERVINGS

15 mins

8 SERVINGS

15 mins

4 SERVINGS

15 mins

4 SERVINGS

5 mins

2-3 SERVINGS

15 mins

2 SERVINGS

5 mins

4 SERVINGS

Coconut Stir Fry Noodles & Nasi Lemak Wings

5 mins

4 SERVINGS

15 mins

4 SERVINGS

5 mins

3 SERVINGS

20 min

3-4 SERVINGS

10 min

4 SERVINGS

10 mins

4 SERVINGS

20 mins

4 SERVINGS

Chipotle Butter Chicken Meatballs

15 min

4 SERVINGS

15 min

4 SERVINGS

5 min

4 SERVINGS

10 min

2 SERVINGS

10 min

2 SERVINGS

4 hrs (marinating time)

4 SERVINGS

30 min

6 SERVINGS

Spicy Beef and Capsicum Stir-Fry

20 min

4 SERVINGS

Cheesy Chicken & Broccoli Patties

10 min

4 SERVINGS

15min

4 SERVINGS

5min

4 SERVINGS

15min

4 SERVINGS

45 min

6 SERVINGS

Picadinho (Brazilian Beef Stew) with Banana Farofa

20 min

4-5 SERVINGS

10 min

2 SERVINGS

10 min

5-6 SERVINGS

Chicken and Seaweed Rice Balls

15 min

4 SERVINGS
Popular Recipes