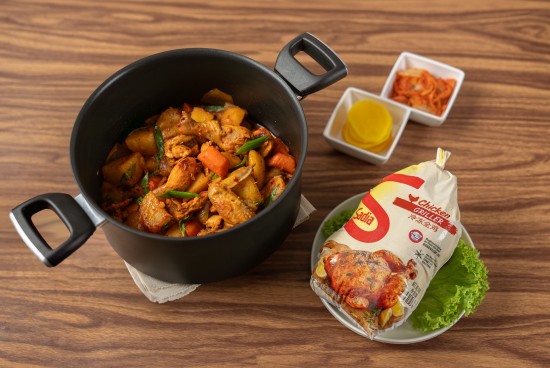 Dakbokkeumtang

15min

4 SERVINGS
INGREDIENTS
1 pack Sadia Chicken Griller, cut into big chunks
2 potatoes peeled, and cut into big quarters
3 carrots, peeled and cut into big chunks
2 big white onions, cut into big chunks
6 cloves of garlic, chopped
4 green onions, sliced into 2 inch long pieces
1 fresh green chili peppers, chopped (optional)
For sauce:
2 tbsp gochujang, Korean red pepper paste
1 tbsp soy sauce
1/2 tbsp gochugaru, Korean red pepper flakes (for spice)
1 tbsp sugar or honey
1 tbsp sesame oil
1 tsp sesame seeds, plus some for garnish
METHOD
Bring enough water to boil to blanch the chicken in a deep bottom pot; add in the chicken chunks and bring back to boil for about 5 to 10 minutes.
Drain chicken with a strainer and rinse pot quickly. Rinse chicken under cold water and place back into the pot.
Add potato, carrot, onion, garlic into the pot.
In a small mixing bowl, combine gochujang, soy sauce, gochugaru, and sugar/honey. Add in the chopped chili peppers if preferred. Mix the sauce well and pour it into the pot, toss it well until chicken and vegetables are evenly coated.
Cover and bring it to boil over medium high heat. Stir frequently.
When it starts to boil, reduce heat to medium and simmer for about 40 minutes, stirring frequently for first 20 minutes to prevent the bottom of your pot from burning.
Stir in green onion and then remove from heat. Transfer to a serving plate and sprinkle sesame seeds on top. Serve with warm cooked rice, kimchi and other favourite side dishes!
Chicken Griller (Without Giblets)
Other Recipes
NOT AVAILABLE

2 SERVINGS

35 mins

2 SERVINGS

30 mins

2 SERVINGS

40 min

2 SERVINGS

30 min

4 SERVINGS

10 mins

4-6 SERVINGS

20 mins

5 to 6 SERVINGS

30 mins

2 SERVINGS

35 mins

6 SERVINGS

Dak Galbi (Korean Spicy Chicken Stir Fry)

40 mins

2-3 SERVINGS

Claypot Chicken Rice in Rice Cooker

15 mins

4 SERVINGS

15 mins

4 SERVINGS

15 mins

4 SERVINGS

15 mins

2 SERVINGS

10 mins

3 to 4 SERVINGS

15 mins

2 SERVINGS

10 mins

2 SERVINGS

10 - 15 mins

4 SERVINGS

10 mins

4 SERVINGS

Taiwanese Style Three Cup Chicken

15 mins

2 SERVINGS

15 mins

8 SERVINGS

15 mins

4 SERVINGS

15 mins

4 SERVINGS

5 mins

2-3 SERVINGS

15 mins

2 SERVINGS

5 mins

4 SERVINGS

Coconut Stir Fry Noodles & Nasi Lemak Wings

5 mins

4 SERVINGS

15 mins

4 SERVINGS

5 mins

3 SERVINGS

20 min

3-4 SERVINGS

10 min

4 SERVINGS

10 mins

4 SERVINGS

20 mins

4 SERVINGS

Chipotle Butter Chicken Meatballs

15 min

4 SERVINGS

15 min

4 SERVINGS

5 min

4 SERVINGS

10 min

2 SERVINGS

10 min

2 SERVINGS

4 hrs (marinating time)

4 SERVINGS

30 min

6 SERVINGS

Spicy Beef and Capsicum Stir-Fry

20 min

4 SERVINGS

Cheesy Chicken & Broccoli Patties

10 min

4 SERVINGS

15min

4 SERVINGS

5min

4 SERVINGS

Golden Egg Tofu with Minced Chicken

10min

4 SERVINGS

45 min

6 SERVINGS

Picadinho (Brazilian Beef Stew) with Banana Farofa

20 min

4-5 SERVINGS

10 min

2 SERVINGS

10 min

5-6 SERVINGS

Chicken and Seaweed Rice Balls

15 min

4 SERVINGS
Popular Recipes