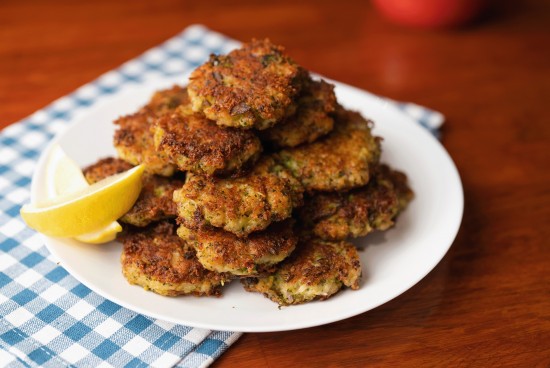 Cheesy Chicken & Broccoli Patties

10 min

4 SERVINGS
INGREDIENTS
Fritters:
1 pack Sadia Minced Chicken
2 small egg
50g panko breadcrumbs
1 head of broccoli, soft cooked & finely chopped
3 small shallots, finely chopped
280g shredded mozzarella (or other cheese of choice)
1/2 tsp salt (reduce salt if using a flavoured cheese)
Black pepper
Oil for frying
Yoghurt Ranch Sauce:
150ml plain yoghurt
A dash of chopped parsley and chives
1/2 tsp garlic powder
2 tsp honey
2 tsp extra virgin olive oil
Squeeze of lemon juice, optional
METHOD
Place Fritter ingredients in a bowl, mix to combine
Measure out mixture and pat into fritter shapes about 6 cm wide, 1cm thick (they shrink a bit and become thicker). Place on a baking paper so that it doesn't stick together
Heat oil in a deep frying pan over high heat, and reduce heat just before the oil starts to smoke
Fry fritters a small amount at a time, flipping on each side until it turns golden brown, Take note not to overcrowd the pan to evenly distribute the heat
Drain fritters on paper towels and set aside to rest
Make the sauce: Mix ingredients together and add salt and pepper to taste. Set aside for 20+ minutes
Serve with ranch sauce, your favourite chilli sauce or ketchup!
Minced Chicken
Other Recipes
NOT AVAILABLE

2 SERVINGS

35 mins

2 SERVINGS

30 mins

2 SERVINGS

40 min

2 SERVINGS

30 min

4 SERVINGS

10 mins

4-6 SERVINGS

20 mins

5 to 6 SERVINGS

30 mins

2 SERVINGS

35 mins

6 SERVINGS

Dak Galbi (Korean Spicy Chicken Stir Fry)

40 mins

2-3 SERVINGS

Claypot Chicken Rice in Rice Cooker

15 mins

4 SERVINGS

15 mins

4 SERVINGS

15 mins

4 SERVINGS

15 mins

2 SERVINGS

10 mins

3 to 4 SERVINGS

15 mins

2 SERVINGS

10 mins

2 SERVINGS

10 - 15 mins

4 SERVINGS

10 mins

4 SERVINGS

Taiwanese Style Three Cup Chicken

15 mins

2 SERVINGS

15 mins

8 SERVINGS

15 mins

4 SERVINGS

15 mins

4 SERVINGS

5 mins

2-3 SERVINGS

15 mins

2 SERVINGS

5 mins

4 SERVINGS

Coconut Stir Fry Noodles & Nasi Lemak Wings

5 mins

4 SERVINGS

15 mins

4 SERVINGS

5 mins

3 SERVINGS

20 min

3-4 SERVINGS

10 min

4 SERVINGS

10 mins

4 SERVINGS

20 mins

4 SERVINGS

Chipotle Butter Chicken Meatballs

15 min

4 SERVINGS

15 min

4 SERVINGS

5 min

4 SERVINGS

10 min

2 SERVINGS

10 min

2 SERVINGS

4 hrs (marinating time)

4 SERVINGS

30 min

6 SERVINGS

Spicy Beef and Capsicum Stir-Fry

20 min

4 SERVINGS

15min

4 SERVINGS

5min

4 SERVINGS

15min

4 SERVINGS

Golden Egg Tofu with Minced Chicken

10min

4 SERVINGS

45 min

6 SERVINGS

Picadinho (Brazilian Beef Stew) with Banana Farofa

20 min

4-5 SERVINGS

10 min

2 SERVINGS

10 min

5-6 SERVINGS

Chicken and Seaweed Rice Balls

15 min

4 SERVINGS
Popular Recipes