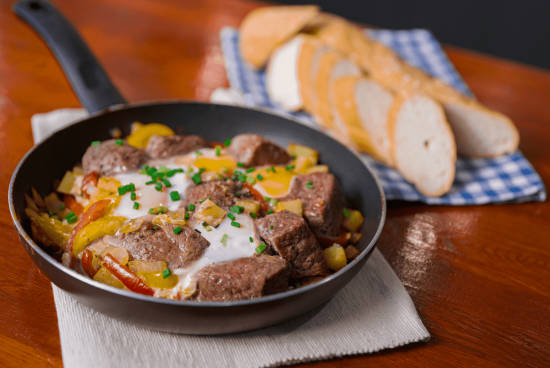 Steak & Eggs

5 min

4 SERVINGS
INGREDIENTS
1 pack Sadia Helper Cuts Beef Cubes
2 russet potatoes, chopped to 1-inch pieces
1 tbsp vegetable oil
Salt and black pepper
1 tsp smoked paprika
1 onion, chopped
2 red bell peppers, chopped
4 eggs
Spring onion for garnishing
METHOD
In a medium pan, add potatoes and cover with water.
Bring to a boil and simmer until just tender, or for about 10-15 mins.
In a large skillet, heat oil over medium-high heat.
After seasoning Sadia Beef Cubes with salt and pepper, add it to the skillet and cook until desired doneness.
Remove beef cubes from skillet and set it aside.
Add onions and bell peppers to skillet. Cook over medium heat until soften, or for about 5 mins.
Add in potatoes and paprika. Season with salt and pepper to taste.
Cook the potatoes until it starts to crisp up and browned.
Then add in the beef cubes and stir well.
Using a wooden spoon, create four holes in the hash to reveal the bottom of the pan.
Crack an egg into each hole and season each egg lightly with some salt and pepper.
Cover skillet with a lid and cook until eggs are to your liking, then add some chopped spring onions to garnish. Serve warm and enjoy the dish!
Beef Cubes
Other Recipes
NOT AVAILABLE

2 SERVINGS

35 mins

2 SERVINGS

30 mins

2 SERVINGS

40 min

2 SERVINGS

30 min

4 SERVINGS

10 mins

4-6 SERVINGS

20 mins

5 to 6 SERVINGS

30 mins

2 SERVINGS

35 mins

6 SERVINGS

Dak Galbi (Korean Spicy Chicken Stir Fry)

40 mins

2-3 SERVINGS

Claypot Chicken Rice in Rice Cooker

15 mins

4 SERVINGS

15 mins

4 SERVINGS

15 mins

4 SERVINGS

15 mins

2 SERVINGS

10 mins

3 to 4 SERVINGS

15 mins

2 SERVINGS

10 mins

2 SERVINGS

10 - 15 mins

4 SERVINGS

10 mins

4 SERVINGS

Taiwanese Style Three Cup Chicken

15 mins

2 SERVINGS

15 mins

8 SERVINGS

15 mins

4 SERVINGS

15 mins

4 SERVINGS

5 mins

2-3 SERVINGS

15 mins

2 SERVINGS

5 mins

4 SERVINGS

Coconut Stir Fry Noodles & Nasi Lemak Wings

5 mins

4 SERVINGS

15 mins

4 SERVINGS

5 mins

3 SERVINGS

20 min

3-4 SERVINGS

10 min

4 SERVINGS

10 mins

4 SERVINGS

20 mins

4 SERVINGS

Chipotle Butter Chicken Meatballs

15 min

4 SERVINGS

15 min

4 SERVINGS

10 min

2 SERVINGS

10 min

2 SERVINGS

4 hrs (marinating time)

4 SERVINGS

30 min

6 SERVINGS

Spicy Beef and Capsicum Stir-Fry

20 min

4 SERVINGS

Cheesy Chicken & Broccoli Patties

10 min

4 SERVINGS

15min

4 SERVINGS

5min

4 SERVINGS

15min

4 SERVINGS

Golden Egg Tofu with Minced Chicken

10min

4 SERVINGS

45 min

6 SERVINGS

Picadinho (Brazilian Beef Stew) with Banana Farofa

20 min

4-5 SERVINGS

10 min

2 SERVINGS

10 min

5-6 SERVINGS

Chicken and Seaweed Rice Balls

15 min

4 SERVINGS
Popular Recipes