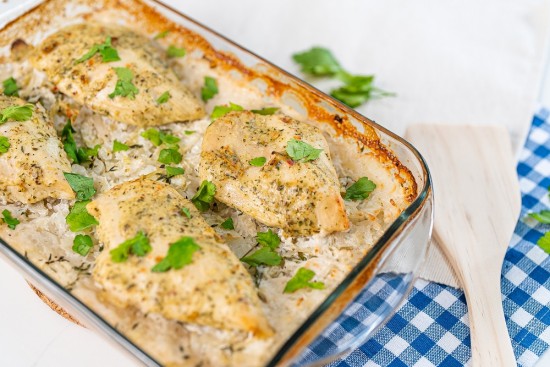 Chicken and Coconut Casserole

15 mins

4 SERVINGS
INGREDIENTS
4 pcs Lemony Greek Yoghurt Grilled Chicken Breast (2 packs)
2 cups Jasmine white rice
1 medium yellow onion, finely chopped
400ml coconut milk
350ml low-sodium chicken broth
2 tbsp fresh thyme leaves, chopped
Salt and pepper to taste
2 tbsp freshly chopped parsley
METHOD
Preheat oven to 180°C. In the bottom of a baking dish, combine rice, onion, coconut milk, broth, and 2 tbsp thyme. Season with some salt and pepper, and stir to combine.
Cover dish with foil and bake for 30 min.
Uncover the dish and set oven to broil.
Place chicken breast on top of rice and broil for about 15 more minutes at 200°C.
Garnish with parsley before serving.
Other Recipes
NOT AVAILABLE

2 SERVINGS

35 mins

2 SERVINGS

30 mins

2 SERVINGS

40 min

2 SERVINGS

30 min

4 SERVINGS

10 mins

4-6 SERVINGS

20 mins

5 to 6 SERVINGS

30 mins

2 SERVINGS

35 mins

6 SERVINGS

Dak Galbi (Korean Spicy Chicken Stir Fry)

40 mins

2-3 SERVINGS

Claypot Chicken Rice in Rice Cooker

15 mins

4 SERVINGS

15 mins

4 SERVINGS

15 mins

4 SERVINGS

15 mins

2 SERVINGS

10 mins

3 to 4 SERVINGS

15 mins

2 SERVINGS

10 mins

2 SERVINGS

10 - 15 mins

4 SERVINGS

10 mins

4 SERVINGS

Taiwanese Style Three Cup Chicken

15 mins

2 SERVINGS

15 mins

8 SERVINGS

15 mins

4 SERVINGS

5 mins

2-3 SERVINGS

15 mins

2 SERVINGS

5 mins

4 SERVINGS

Coconut Stir Fry Noodles & Nasi Lemak Wings

5 mins

4 SERVINGS

15 mins

4 SERVINGS

5 mins

3 SERVINGS

20 min

3-4 SERVINGS

10 min

4 SERVINGS

10 mins

4 SERVINGS

20 mins

4 SERVINGS

Chipotle Butter Chicken Meatballs

15 min

4 SERVINGS

15 min

4 SERVINGS

5 min

4 SERVINGS

10 min

2 SERVINGS

10 min

2 SERVINGS

4 hrs (marinating time)

4 SERVINGS

30 min

6 SERVINGS

Spicy Beef and Capsicum Stir-Fry

20 min

4 SERVINGS

Cheesy Chicken & Broccoli Patties

10 min

4 SERVINGS

15min

4 SERVINGS

5min

4 SERVINGS

15min

4 SERVINGS

Golden Egg Tofu with Minced Chicken

10min

4 SERVINGS

45 min

6 SERVINGS

Picadinho (Brazilian Beef Stew) with Banana Farofa

20 min

4-5 SERVINGS

10 min

2 SERVINGS

10 min

5-6 SERVINGS

Chicken and Seaweed Rice Balls

15 min

4 SERVINGS
Popular Recipes