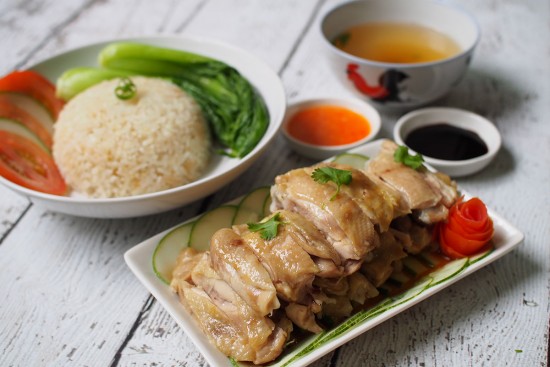 Hainanese Chicken Rice Recipe Singapore

NOT AVAILABLE

4 SERVINGS
INGREDIENTS
Chicken Rice
600g Chicken Thighs - Bone in Skin on
2 Lemongrass, bruised cut into 2 inch pieces
3 Shallots
4 cloves Garlic
1 ½ inch thumb Ginger
2 cups Rice, rinsed
2 cups Chicken Broth
½ tablespoon Sesame Oil
½ tablespoon Cooking Oil
Salt to taste
2 Pandan Leaves, knotted
Serving Sauce for Chicken
1 teaspoon sugar
1 tablespoon sesame oil
1 tablespoon soy sauce
2 tablespoon hot water
Garlic Ginger Chilli Sauce (makes about 1/3 cup)
3-4 chilli padi
4 cloves garlic
1 inch thumb ginger
¼ teaspoon sugar
4-5 tablespoon chicken broth
Serving Suggestion
Xiao Bai Cai, blanched
Sliced Cucumbers
Sliced Tomatoes
Sweet Dark Sauce / Kicap Manis
Spring Onions and Coriander to garnish
METHOD
Chicken Rice
Season chicken thighs with salt
Process garlic, shallot, and ginger in food processor
Heat empty rice cooker by pressing 'cook'
When rice cooker pot is heated, add sesame oil and cooking oil
Add processed spices (garlic, ginger, shallot), and sauté until fragrant
Add rice and toss with spices
Change rice cooker mode to keep warm
Pour in chicken broth, lay chicken over rice
Place pandan leaves and lemongrass over rice
Cover and press 'cook'
Leave rice cooker for 10 minutes before opening after it's done cooking
Discard pandan leaves and lemongrass
Transfer chicken onto serving plate, and fluff rice before serving
Serving Sauce for Chicken
Dissolve sugar in hot water
Mix in the rest of the ingredients
Pour sauce over chicken before serving
Garlic Ginger Chilli Sauce
Place all the ingredients in a food processor or blender
Blend until smooth
Serve with chicken rice
Serving Suggestion
Serve chicken over cucumber and tomato slices
Drizzle sauce over chicken
Serve chicken rice with blanched Xiao Bai Cai
Garnish chicken with spring onions & coriander
Our Authentic Singapore Hainanese Chicken Rice Recipe
This popular Singaporean dish is as iconic as they come and is considered a part of the country's cultural identity. If you are a lover of chicken dishes and hearty meals, then this recipe is definitely for you. You'll be hard pressed to find another dish that celebrates both of these elements more for a delicious comfort food that's great all year round.
What our recipe for chicken rice entails
Our recipe aims to help you produce a mouth-watering, and nutritious dish that's high in flavour. It's important to choose each of your ingredients carefully to make sure you get the most out of your finished result. As the chicken makes up a main component of this dish, selecting the right one will be your primary concern. There are many recipe variations for this dish in Singapore, we believe our chicken rice dish is among the best.
Chicken Thigh
Popular Recipes