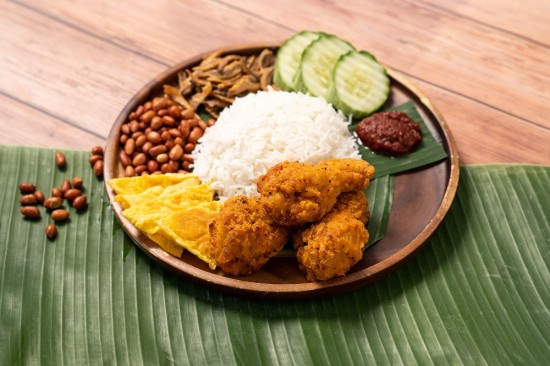 Nasi Lemak with Chicken Wings

15 mins

2 SERVINGS
INGREDIENTS
1 pack Nasi Lemak Chicken Wings
Coconut Milk Rice :
0.2 kg rice, preferably basmati rice, 5 1/2 cups
1.2 cups water
40 ml Thick coconut milk, 1 coconut
0.6 pandan leaves, knotted and slightly bruised
0.4 stick lemongrass, crushed
0.2 ginger, crushed
0.2 tsp sugar, to taste
0.4 tsp salt, to taste
Sambal ikan bilis
METHOD
First rinse the rice and drain. Transfer to a rice cooker. Pour 50ml (1/4) of the thick coconut milk into a cup. Then dilute with some water.
Add in salt and sugar and stir to mix. Pour the coconut milk mixture into the rice cooker. Add in additional water to make sure the volume of the watery coconut milk is the same as the rice in volume. (Altogether is about 6 cups).
Add in crushed ginger, lemongrass and pandan leaves. Switch on the rice cooker and cook the rice
Airfry chicken wings at 200 degrees celsius for 15 minutes.
When the rice is almots cooked, add the balance (150ml) of the thick coconut milk. Stir the rice. Close the lid and continue cooking until done.
Serve cooked rice with chicken wings and a side of sambal ikan bilis.
Nasi Lemak Chicken Wings
Other Recipes
NOT AVAILABLE

2 SERVINGS

35 mins

2 SERVINGS

30 mins

2 SERVINGS

40 min

2 SERVINGS

30 min

4 SERVINGS

10 mins

4-6 SERVINGS

20 mins

5 to 6 SERVINGS

30 mins

2 SERVINGS

35 mins

6 SERVINGS

Dak Galbi (Korean Spicy Chicken Stir Fry)

40 mins

2-3 SERVINGS

Claypot Chicken Rice in Rice Cooker

15 mins

4 SERVINGS

15 mins

4 SERVINGS

15 mins

4 SERVINGS

15 mins

2 SERVINGS

10 mins

3 to 4 SERVINGS

15 mins

2 SERVINGS

10 mins

2 SERVINGS

10 - 15 mins

4 SERVINGS

10 mins

4 SERVINGS

Taiwanese Style Three Cup Chicken

15 mins

2 SERVINGS

15 mins

8 SERVINGS

15 mins

4 SERVINGS

15 mins

4 SERVINGS

5 mins

2-3 SERVINGS

5 mins

4 SERVINGS

Coconut Stir Fry Noodles & Nasi Lemak Wings

5 mins

4 SERVINGS

15 mins

4 SERVINGS

5 mins

3 SERVINGS

20 min

3-4 SERVINGS

10 min

4 SERVINGS

10 mins

4 SERVINGS

20 mins

4 SERVINGS

Chipotle Butter Chicken Meatballs

15 min

4 SERVINGS

15 min

4 SERVINGS

5 min

4 SERVINGS

10 min

2 SERVINGS

10 min

2 SERVINGS

4 hrs (marinating time)

4 SERVINGS

30 min

6 SERVINGS

Spicy Beef and Capsicum Stir-Fry

20 min

4 SERVINGS

Cheesy Chicken & Broccoli Patties

10 min

4 SERVINGS

15min

4 SERVINGS

5min

4 SERVINGS

15min

4 SERVINGS

Golden Egg Tofu with Minced Chicken

10min

4 SERVINGS

45 min

6 SERVINGS

Picadinho (Brazilian Beef Stew) with Banana Farofa

20 min

4-5 SERVINGS

10 min

2 SERVINGS
Popular Recipes