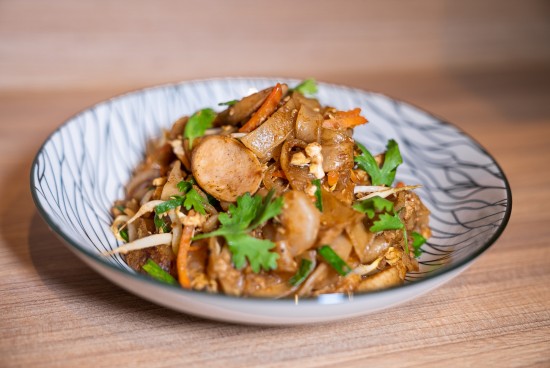 Char Kway Teow

10 mins

2 SERVINGS
INGREDIENTS
1 cup bean sprouts
1 carrot, peeled and thinly sliced
1 yellow onion, thinly sliced
2 cloves garlic, peeled and chopped finely
2 chicken sausages, sliced
1 fish cake, thinly sliced
150g cooked prawns
420g rice noodles
3 to 4 tbsp oil
3 eggs, lightly beaten
Salt and ground black pepper, to taste
Few stalks Chinese chives, cut about 1/2 inch lengthwise
1 tbsp fresh cilantro leaves, chopped (optional)
Sauces:
2 tbsp oyster sauce
1 tbsp soy sauce
1 tbsp dark soy sauce
1 tbsp brown sugar
METHOD
Firstly, sliced the Classic BBQ Chicken Sausages on the diagonal into 1/2 inch pieces.
Prepare the sauce by mixing oyster sauce, light and dark soy sauce and brown sugar together. Then, set it aside.
Heat oil in a wok over medium heat and add in onions and carrots. Stir-fry till onion soften.
Add in chopped garlic, chicken sausages, sliced fish cakes and cooked prawns to fry.
Next, add in rice noodles and stir-fry continuously at high heat. Push up the sides and add in the sauces you mixed in Step 2. Once it boils, cover the sauces over with the rice noodles.
Add in bean sprouts and stir fry. Crack in the eggs now and make sure you stir rapidly to ensure the eggs don't stick.
If the noodles get too dry, add in some water or chicken broth. Add in the chives and season with salt and black pepper to taste.
Serve hot and garnish char kway teow with cilantro if preferred.
Other Recipes
NOT AVAILABLE

2 SERVINGS

35 mins

2 SERVINGS

30 mins

2 SERVINGS

40 min

2 SERVINGS

30 min

4 SERVINGS

10 mins

4-6 SERVINGS

20 mins

5 to 6 SERVINGS

30 mins

2 SERVINGS

35 mins

6 SERVINGS

Dak Galbi (Korean Spicy Chicken Stir Fry)

40 mins

2-3 SERVINGS

Claypot Chicken Rice in Rice Cooker

15 mins

4 SERVINGS

15 mins

4 SERVINGS

15 mins

4 SERVINGS

15 mins

2 SERVINGS

10 mins

3 to 4 SERVINGS

15 mins

2 SERVINGS

10 - 15 mins

4 SERVINGS

10 mins

4 SERVINGS

Taiwanese Style Three Cup Chicken

15 mins

2 SERVINGS

15 mins

8 SERVINGS

15 mins

4 SERVINGS

15 mins

4 SERVINGS

5 mins

2-3 SERVINGS

15 mins

2 SERVINGS

5 mins

4 SERVINGS

Coconut Stir Fry Noodles & Nasi Lemak Wings

5 mins

4 SERVINGS

15 mins

4 SERVINGS

5 mins

3 SERVINGS

20 min

3-4 SERVINGS

10 min

4 SERVINGS

10 mins

4 SERVINGS

20 mins

4 SERVINGS

Chipotle Butter Chicken Meatballs

15 min

4 SERVINGS

15 min

4 SERVINGS

5 min

4 SERVINGS

10 min

2 SERVINGS

10 min

2 SERVINGS

4 hrs (marinating time)

4 SERVINGS

30 min

6 SERVINGS

Spicy Beef and Capsicum Stir-Fry

20 min

4 SERVINGS

Cheesy Chicken & Broccoli Patties

10 min

4 SERVINGS

15min

4 SERVINGS

5min

4 SERVINGS

15min

4 SERVINGS

Golden Egg Tofu with Minced Chicken

10min

4 SERVINGS

45 min

6 SERVINGS

Picadinho (Brazilian Beef Stew) with Banana Farofa

20 min

4-5 SERVINGS

10 min

2 SERVINGS
Popular Recipes