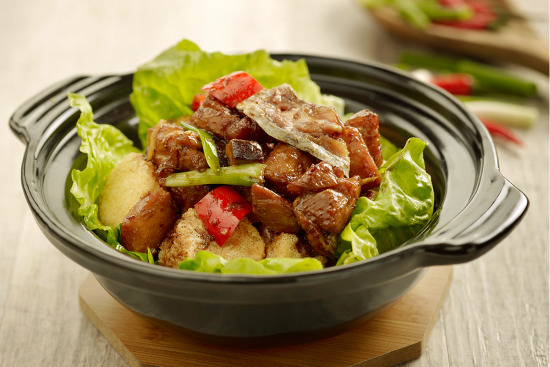 Rice Cooker Claypot Chicken Rice

NOT AVAILABLE

0 SERVINGS
INGREDIENTS
4 pieces of Sadia Chicken Boneless Leg Meat, skin removed and cut into bite-sized pieces
2 cups of Rice, washed and drained
1¾ - 2 cups Water
1 thumb-size piece of Ginger
50g dried Prawns, soaked in warm water until soften, then drained
2 Chinese Sausages, sliced
8 dried Shitake Mushrooms, soaked in warm water until re-hydrated, stalks removed and sliced
4 cloves Garlic, minced
1 pack Cai Xin, cut
5 Shallots, sliced
2 tablespoons Vegetable Oil
2 teaspoons Light Soy Sauce
2 - 3 tablespoons Dark Soy Sauce (depending on how dark you like the rice)
Ground White Pepper, to taste
Marinade for the chicken
3 tablespoons Oyster Sauce
1 tablespoon Light Soy Sauce
1 teaspoon Sesame Oil
2 tablespoon Shaoxing Wine
1 teaspoon Corn Flour
½ teaspoon Ground White Pepper
Garnish (optional):
2 stalks Spring Onion, chopped
1 large Chili, sliced
Fried Shallots
Fried Salted fish
METHOD
Cut chicken into bite-size pieces. Season and set aside in the fridge for at least 2 hours.
Fry the ginger and shallots for 2-3 minutes in the oil until fragrant. Add minced garlic and fry for another 30 seconds.
Add the chicken and stir until the chicken becomes opaque. There is no need to cook the chicken all the way through because the entire dish will finish cooking in the rice cooker.
Add the mushrooms. Once everything is well-combined, season with light soy sauce, dark soy sauce and white pepper. Stir to mix well.
Add rice and water to the bottom of a rice cooker.
Place the chicken and mushrooms on top of the rice and press the "START" button on the rice cooker.
After the rice has cooked for 30 minutes, add the dried shrimp and Chinese sausage into the rice cooker. Continue cooking.
At the final 10 minutes, add the cai xin.
When the rice cooker beeps to signal the end of the cooking process, give everything a stir until well-distributed.
Garnish with the toppings, if using, and serve hot.
Chicken Boneless Leg
Chicken Thigh
Popular Recipes