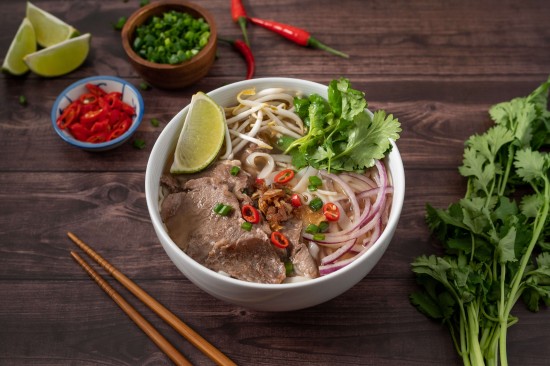 Vietnamese Beef Pho

30 mins

2 SERVINGS
INGREDIENTS
200g Beef Shabu Shabu
750ml beef stock
2 cloves garlic, peeled and bashed flat with the back of knife
1 thumb-sized piece ginger, sliced
2 red chillies, sliced
1 star anise
1 stick cinnamon
1 bunch spring onions, sliced
1 tsp fish sauce
100g BROWN RICE flat noodles
Handful of beansprouts

To serve:
Coriander leaves
Lime wedges
Hoisin sauce (optional)
Sriracha chilli sauce (optional)
METHOD
Bring stock, garlic, ginger, half the chilli, star anise, cinnamon and half the spring onions to a boil for 15 minutes.
Strain, discard solids and bring the mix back to a boil. Season with fish sauce.
Pour a kettle of boiling water over the noodles and leave to soak for 10 minutes.
Drain and rinse noodles. Then portion noodles between 2 bowls.
Add steak and beansprouts to the simmering stock and remove from heat. The stock will continue to cook in the residual heat.
Spoon over the noodles and add the remaining spring onions, chilli. Add coriander and lime wedges to each bowl.
Serve with hoisin and sriracha sauce (optional).
Beef Shabu Shabu
Other Recipes
NOT AVAILABLE

2 SERVINGS

35 mins

2 SERVINGS

30 mins

2 SERVINGS

40 min

2 SERVINGS

30 min

4 SERVINGS

10 mins

4-6 SERVINGS

20 mins

5 to 6 SERVINGS

35 mins

6 SERVINGS

Dak Galbi (Korean Spicy Chicken Stir Fry)

40 mins

2-3 SERVINGS

Claypot Chicken Rice in Rice Cooker

15 mins

4 SERVINGS

15 mins

4 SERVINGS

15 mins

4 SERVINGS

15 mins

2 SERVINGS

10 mins

3 to 4 SERVINGS

15 mins

2 SERVINGS

10 mins

2 SERVINGS

10 - 15 mins

4 SERVINGS

10 mins

4 SERVINGS

Taiwanese Style Three Cup Chicken

15 mins

2 SERVINGS

15 mins

8 SERVINGS

15 mins

4 SERVINGS

15 mins

4 SERVINGS

5 mins

2-3 SERVINGS

15 mins

2 SERVINGS

5 mins

4 SERVINGS

Coconut Stir Fry Noodles & Nasi Lemak Wings

5 mins

4 SERVINGS

15 mins

4 SERVINGS

5 mins

3 SERVINGS

20 min

3-4 SERVINGS

10 min

4 SERVINGS

10 mins

4 SERVINGS

20 mins

4 SERVINGS

Chipotle Butter Chicken Meatballs

15 min

4 SERVINGS

15 min

4 SERVINGS

5 min

4 SERVINGS

10 min

2 SERVINGS

10 min

2 SERVINGS

4 hrs (marinating time)

4 SERVINGS

30 min

6 SERVINGS

Spicy Beef and Capsicum Stir-Fry

20 min

4 SERVINGS

Cheesy Chicken & Broccoli Patties

10 min

4 SERVINGS

15min

4 SERVINGS

5min

4 SERVINGS

15min

4 SERVINGS

Golden Egg Tofu with Minced Chicken

10min

4 SERVINGS

45 min

6 SERVINGS

Picadinho (Brazilian Beef Stew) with Banana Farofa

20 min

4-5 SERVINGS

10 min

2 SERVINGS

10 min

5-6 SERVINGS

Chicken and Seaweed Rice Balls

15 min

4 SERVINGS
Popular Recipes