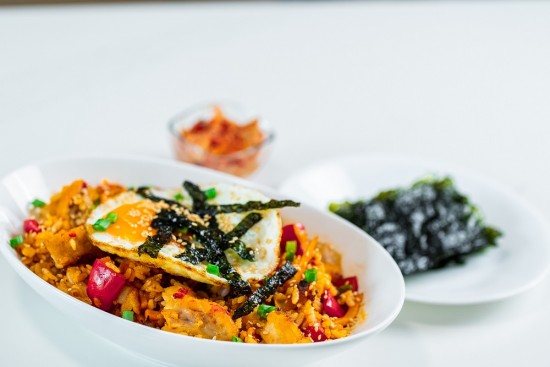 Kimchi Chicken Fried Rice

5 mins

2-3 SERVINGS
INGREDIENTS
1 pack Sadia Breaded Chicken Cutlet (3pcs)
Fried rice:
230g (1 cup) cooked short grain rice (cooked a day before)
1 ½ tbsp groundnut or vegetable oil
½ white onion, finely chopped
2 tsp fresh ginger, finely chopped
80g (or ½ cup) kimchi
1 large carrot, grated
1 red pepper, chopped into 1cm square pieces
2 cloves of garlic, minced
2 or 3 eggs (depending on how many people you are serving)
Sauce:
1 tbsp Gochujang
3 tbsp soy sauce
2 tbsp kimchi juice
Toppings:
2 tsp sesame seeds
2 spring onions - finely chopped
A handful of nori (seaweed) cut into thin 4cm strips (optional)
METHOD
Airfry 1 packet of Sadia Breaded Chicken Cutlet straight from freezer, at 200°C for 12 mins.
Meanwhile, prepare the sauce by mixing Gochujang, soy sauce and kimchi juice in a bowl. Ensure all lumps are removed and the sauce is smooth.
Set your wok or frying pan to high heat, add 1 tbsp oil, onion and ginger and fry until the onion is soft.
Add the kimchi, grated carrots, red pepper and garlic and cook for a few minutes until cooked and tender.
Reduce the heat to medium, then add the rice and stir well with the vegetables, until it gets hot.
Pour in the sauce mixture and mix thoroughly, then bring heat to low.
When the chicken cutlet is ready and chopped into bite-sized pieces, add it into the wok and quickly mix well.
On a separate frying pan, set to medium high heat and add oil. Fry the eggs until yolks are set and edges start to brown a little.
Plate the fried rice with an egg on top. Top with spring onions, sesame seeds and nori strips. Serve it while it's hot!
Other Recipes
NOT AVAILABLE

2 SERVINGS

35 mins

2 SERVINGS

30 mins

2 SERVINGS

40 min

2 SERVINGS

30 min

4 SERVINGS

10 mins

4-6 SERVINGS

20 mins

5 to 6 SERVINGS

30 mins

2 SERVINGS

35 mins

6 SERVINGS

Dak Galbi (Korean Spicy Chicken Stir Fry)

40 mins

2-3 SERVINGS

Claypot Chicken Rice in Rice Cooker

15 mins

4 SERVINGS

15 mins

4 SERVINGS

15 mins

4 SERVINGS

15 mins

2 SERVINGS

10 mins

3 to 4 SERVINGS

15 mins

2 SERVINGS

10 mins

2 SERVINGS

10 - 15 mins

4 SERVINGS

10 mins

4 SERVINGS

Taiwanese Style Three Cup Chicken

15 mins

2 SERVINGS

15 mins

8 SERVINGS

15 mins

4 SERVINGS

15 mins

4 SERVINGS

15 mins

2 SERVINGS

5 mins

4 SERVINGS

Coconut Stir Fry Noodles & Nasi Lemak Wings

5 mins

4 SERVINGS

15 mins

4 SERVINGS

5 mins

3 SERVINGS

20 min

3-4 SERVINGS

10 min

4 SERVINGS

10 mins

4 SERVINGS

20 mins

4 SERVINGS

Chipotle Butter Chicken Meatballs

15 min

4 SERVINGS

15 min

4 SERVINGS

5 min

4 SERVINGS

10 min

2 SERVINGS

10 min

2 SERVINGS

4 hrs (marinating time)

4 SERVINGS

30 min

6 SERVINGS

Spicy Beef and Capsicum Stir-Fry

20 min

4 SERVINGS

Cheesy Chicken & Broccoli Patties

10 min

4 SERVINGS

15min

4 SERVINGS

5min

4 SERVINGS

15min

4 SERVINGS

Golden Egg Tofu with Minced Chicken

10min

4 SERVINGS

45 min

6 SERVINGS

Picadinho (Brazilian Beef Stew) with Banana Farofa

20 min

4-5 SERVINGS

10 min

2 SERVINGS
Popular Recipes