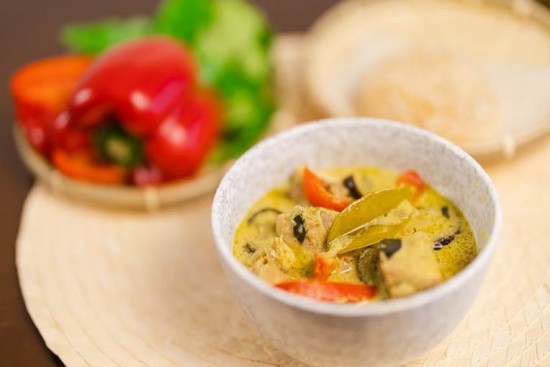 Thai Green Curry

15 mins

8 SERVINGS
INGREDIENTS
1 pack Sadia Chicken Cubes
3-4 tbsp green curry paste
2-3 cloves shallots, chopped
2 tbsp olive oil
1 cup chicken broth or veggie broth
1 can coconut milk (full fat)
1 tsp sugar
1 tsp fish sauce
1 Japanese eggplant, thinly sliced into half-moons
1 red bell pepper, sliced
6–8 kaffir lime leaves
1-2 tsp Lime juice to taste
1/4 cup fresh Thai basil leaves, torn
Lime wedges for garnish (optional)"
METHOD
Heat oil in a heavy bottom pot over medium-high heat. Saute chopped shallots first, then add in curry paste. Stir-fry for about 2-3 min. Then add in kaffir lime leaves.
Add the stock and continue to stir while scraping the browned bits. Then stir in the coconut milk, add sugar and fish sauce.
Add in the chicken cubes and eggplant, then bring to a gentle simmer. Simmering uncovered for about 5 mins, or till chicken is cooked and eggplant soften.
Add a squeeze 1-2 tsp of lime to taste (add more if needed). For more depth, add sugar or fish sauce according to your preferred taste.
Add basil leaves and it's ready to serve while it's hot! Great with rice!
Other Recipes
NOT AVAILABLE

2 SERVINGS

35 mins

2 SERVINGS

30 mins

2 SERVINGS

40 min

2 SERVINGS

30 min

4 SERVINGS

10 mins

4-6 SERVINGS

20 mins

5 to 6 SERVINGS

30 mins

2 SERVINGS

35 mins

6 SERVINGS

Dak Galbi (Korean Spicy Chicken Stir Fry)

40 mins

2-3 SERVINGS

Claypot Chicken Rice in Rice Cooker

15 mins

4 SERVINGS

15 mins

4 SERVINGS

15 mins

4 SERVINGS

15 mins

2 SERVINGS

10 mins

3 to 4 SERVINGS

15 mins

2 SERVINGS

10 mins

2 SERVINGS

10 - 15 mins

4 SERVINGS

10 mins

4 SERVINGS

Taiwanese Style Three Cup Chicken

15 mins

2 SERVINGS

15 mins

4 SERVINGS

15 mins

4 SERVINGS

5 mins

2-3 SERVINGS

15 mins

2 SERVINGS

5 mins

4 SERVINGS

Coconut Stir Fry Noodles & Nasi Lemak Wings

5 mins

4 SERVINGS

15 mins

4 SERVINGS

5 mins

3 SERVINGS

20 min

3-4 SERVINGS

10 min

4 SERVINGS

10 mins

4 SERVINGS

20 mins

4 SERVINGS

Chipotle Butter Chicken Meatballs

15 min

4 SERVINGS

15 min

4 SERVINGS

5 min

4 SERVINGS

10 min

2 SERVINGS

10 min

2 SERVINGS

4 hrs (marinating time)

4 SERVINGS

30 min

6 SERVINGS

Spicy Beef and Capsicum Stir-Fry

20 min

4 SERVINGS

Cheesy Chicken & Broccoli Patties

10 min

4 SERVINGS

15min

4 SERVINGS

5min

4 SERVINGS

15min

4 SERVINGS

Golden Egg Tofu with Minced Chicken

10min

4 SERVINGS

45 min

6 SERVINGS

Picadinho (Brazilian Beef Stew) with Banana Farofa

20 min

4-5 SERVINGS

10 min

2 SERVINGS

10 min

5-6 SERVINGS

Chicken and Seaweed Rice Balls

15 min

4 SERVINGS
Popular Recipes