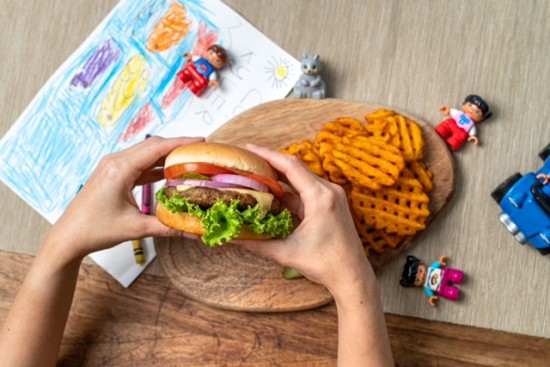 Krabby Patties

10 - 15 mins

4 SERVINGS
INGREDIENTS
1 pack of Sadia Primo Beef Burger with Cheddar Cheese
Aioli Sauce:
1/2 cup mayonnaise
2 tsp paprika/garlic powder (optional)
Burger:
4 sesame seed buns, sliced in half
Ketchup
Mustard
Some pickle slices (or pineapple if preferred)
1 medium red onion, sliced
1 tomato, sliced
4 leaves of butter lettuce
4 sliced cheese
METHOD
Heat a grill pan or sauté pan over medium heat. Drizzle some cooking oil to coat the pan.
As it heats, place patties on the pan, cooking each side about 4-5 minutes, or until cooked through to your desired doneness.
Get your little ones to help by using a large star-shaped cookie cutter to cut each cheese slice into a star shape.
Place the star-shaped cheese on each burger patty, in the last 30 seconds or so of cooking, so it melts a little. Then set burger patties aside.
Make Aioli Sauce: Stir mayo and paprika/garlic powder until thoroughly combined.
Assemble the Sandwich: Spread aioli sauce on the bottom of each bun. Top with the burger patty and sliced cheese, ketchup, mustard, lettuce, tomato, onion slices and pickles/pineapple. Place the top bun on each burger and serve it up!
Other Recipes
NOT AVAILABLE

2 SERVINGS

35 mins

2 SERVINGS

30 mins

2 SERVINGS

40 min

2 SERVINGS

30 min

4 SERVINGS

10 mins

4-6 SERVINGS

20 mins

5 to 6 SERVINGS

30 mins

2 SERVINGS

35 mins

6 SERVINGS

Dak Galbi (Korean Spicy Chicken Stir Fry)

40 mins

2-3 SERVINGS

Claypot Chicken Rice in Rice Cooker

15 mins

4 SERVINGS

15 mins

4 SERVINGS

15 mins

4 SERVINGS

15 mins

2 SERVINGS

10 mins

3 to 4 SERVINGS

15 mins

2 SERVINGS

10 mins

2 SERVINGS

10 mins

4 SERVINGS

Taiwanese Style Three Cup Chicken

15 mins

2 SERVINGS

15 mins

8 SERVINGS

15 mins

4 SERVINGS

15 mins

4 SERVINGS

5 mins

2-3 SERVINGS

15 mins

2 SERVINGS

5 mins

4 SERVINGS

Coconut Stir Fry Noodles & Nasi Lemak Wings

5 mins

4 SERVINGS

15 mins

4 SERVINGS

5 mins

3 SERVINGS

20 min

3-4 SERVINGS

10 min

4 SERVINGS

10 mins

4 SERVINGS

20 mins

4 SERVINGS

Chipotle Butter Chicken Meatballs

15 min

4 SERVINGS

15 min

4 SERVINGS

5 min

4 SERVINGS

10 min

2 SERVINGS

10 min

2 SERVINGS

4 hrs (marinating time)

4 SERVINGS

30 min

6 SERVINGS

Spicy Beef and Capsicum Stir-Fry

20 min

4 SERVINGS

Cheesy Chicken & Broccoli Patties

10 min

4 SERVINGS

15min

4 SERVINGS

5min

4 SERVINGS

15min

4 SERVINGS

Golden Egg Tofu with Minced Chicken

10min

4 SERVINGS

45 min

6 SERVINGS

Picadinho (Brazilian Beef Stew) with Banana Farofa

20 min

4-5 SERVINGS

10 min

2 SERVINGS
Popular Recipes