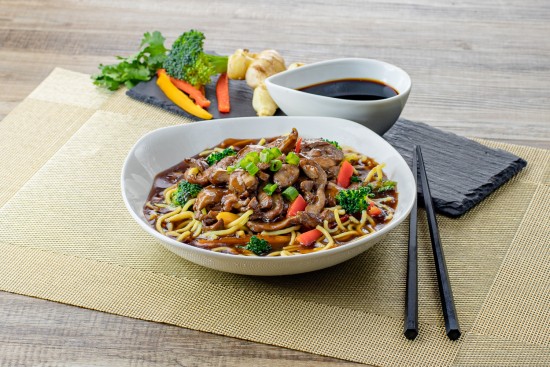 Sesame Chicken with Noodles

35 mins

2 SERVINGS
INGREDIENTS
Sesame Chicken:
1 packet Sadia stir fry chicken
120 g uncooked yellow noodles
½ yellow, red and/or orange sweet peppers, cut into bite-size strips
½ small yellow onion
110 g broccoli florets
15 ml canola oil
5 ml sesame seed oil
Scallions, to garnish
Sesame seeds, to garnish
Sauce:
120 ml water
40 ml dark soy sauce
7 g brown sugar
15 ml rice vinegar
2 garlic cloves crushed
22 ml sesame seed oil
11 g corn starch
METHOD
Combine ingredients for the sauce in a mixing bowl and whisk well. Add Sadia stir fry chicken into the sauce, stir and let it marinate for 15 minutes.
While chicken is marinating, cook noodles according to the package instructions, strain and set aside. Chop and slice vegetables and set them aside.
Heat a large cooking pan (or a wok if available) over medium heat. Add canola oil and sesame oil.
Take out chicken (save marinade) and cook it until about half way done, stirring and turning it over as it cooks.
Add broccoli florets, yellow onion and sweet peppers, stir and cook until the vegetables start to soften.
Pour in marinade and cook until chicken is done and vegetables are tender, stirring once in a while. Make sure sauce simmers for a few minutes since it contained raw chicken.
Once everything is cooked, add cooked noodles and stir until everything is evenly incorporated.
Garnish with scallions and sesame seeds.
Other Recipes
NOT AVAILABLE

2 SERVINGS

30 mins

2 SERVINGS

40 min

2 SERVINGS

30 min

4 SERVINGS

10 mins

4-6 SERVINGS

20 mins

5 to 6 SERVINGS

30 mins

2 SERVINGS

35 mins

6 SERVINGS

Dak Galbi (Korean Spicy Chicken Stir Fry)

40 mins

2-3 SERVINGS

Claypot Chicken Rice in Rice Cooker

15 mins

4 SERVINGS

15 mins

4 SERVINGS

15 mins

4 SERVINGS

15 mins

2 SERVINGS

10 mins

3 to 4 SERVINGS

15 mins

2 SERVINGS

10 mins

2 SERVINGS

10 - 15 mins

4 SERVINGS

10 mins

4 SERVINGS

Taiwanese Style Three Cup Chicken

15 mins

2 SERVINGS

15 mins

8 SERVINGS

15 mins

4 SERVINGS

15 mins

4 SERVINGS

5 mins

2-3 SERVINGS

15 mins

2 SERVINGS

5 mins

4 SERVINGS

Coconut Stir Fry Noodles & Nasi Lemak Wings

5 mins

4 SERVINGS

15 mins

4 SERVINGS

5 mins

3 SERVINGS

20 min

3-4 SERVINGS

10 min

4 SERVINGS

10 mins

4 SERVINGS

20 mins

4 SERVINGS

Chipotle Butter Chicken Meatballs

15 min

4 SERVINGS

15 min

4 SERVINGS

5 min

4 SERVINGS

10 min

2 SERVINGS

10 min

2 SERVINGS

4 hrs (marinating time)

4 SERVINGS

30 min

6 SERVINGS

Spicy Beef and Capsicum Stir-Fry

20 min

4 SERVINGS

Cheesy Chicken & Broccoli Patties

10 min

4 SERVINGS

15min

4 SERVINGS

5min

4 SERVINGS

15min

4 SERVINGS

Golden Egg Tofu with Minced Chicken

10min

4 SERVINGS

45 min

6 SERVINGS

Picadinho (Brazilian Beef Stew) with Banana Farofa

20 min

4-5 SERVINGS

10 min

2 SERVINGS
Popular Recipes