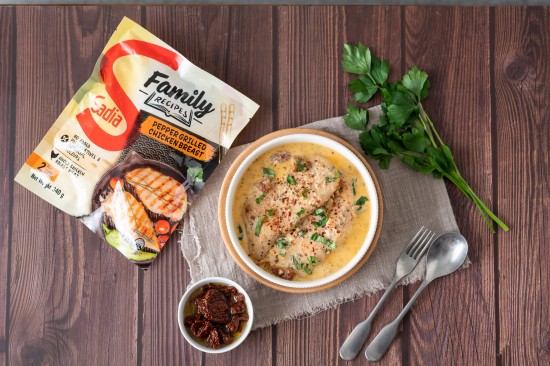 Marry Me Chicken

10 min

2 SERVINGS
INGREDIENTS
1 pack Sadia Pepper Grilled Chicken Breast, thawed
1 tbsp olive oil
1 clove garlic, minced
50g low-sodium chicken broth
30g heavy cream
20g parmesan cheese, freshly grated, at room temperature
30g sun-dried tomatoes
1/2 tsp dried oregano
1/4 tsp red pepper flakes
Basil leaves, shredded for garnish
METHOD
In a cast iron skillet, add oil and heat chicken on medium-high heat, searing both sides for about 2 mins. Set aside
Add garlic to skillet and cook until fragrant, about 1 to 2 mins
Stir in broth and heavy cream, then slowly add grated parmesan, sun dried tomatoes, oregano, and red pepper flakes
Bring mixture to simmer, then return seared chicken to skillet. Quickly flip chicken so that it is fully coated with the sauce
Remove chicken from skillet and plate with desired side dishes. Spoon additional sauce from skillet over chicken, garnish with shredded basil leaves, and serve hot.
Pepper Grilled Chicken Breast
Other Recipes
NOT AVAILABLE

2 SERVINGS

35 mins

2 SERVINGS

30 mins

2 SERVINGS

40 min

2 SERVINGS

30 min

4 SERVINGS

10 mins

4-6 SERVINGS

20 mins

5 to 6 SERVINGS

30 mins

2 SERVINGS

35 mins

6 SERVINGS

Dak Galbi (Korean Spicy Chicken Stir Fry)

40 mins

2-3 SERVINGS

Claypot Chicken Rice in Rice Cooker

15 mins

4 SERVINGS

15 mins

4 SERVINGS

15 mins

4 SERVINGS

15 mins

2 SERVINGS

10 mins

3 to 4 SERVINGS

15 mins

2 SERVINGS

10 mins

2 SERVINGS

10 - 15 mins

4 SERVINGS

10 mins

4 SERVINGS

Taiwanese Style Three Cup Chicken

15 mins

2 SERVINGS

15 mins

8 SERVINGS

15 mins

4 SERVINGS

15 mins

4 SERVINGS

5 mins

2-3 SERVINGS

15 mins

2 SERVINGS

5 mins

4 SERVINGS

Coconut Stir Fry Noodles & Nasi Lemak Wings

5 mins

4 SERVINGS

15 mins

4 SERVINGS

5 mins

3 SERVINGS

20 min

3-4 SERVINGS

10 min

4 SERVINGS

10 mins

4 SERVINGS

20 mins

4 SERVINGS

Chipotle Butter Chicken Meatballs

15 min

4 SERVINGS

15 min

4 SERVINGS

5 min

4 SERVINGS

10 min

2 SERVINGS

4 hrs (marinating time)

4 SERVINGS

30 min

6 SERVINGS

Spicy Beef and Capsicum Stir-Fry

20 min

4 SERVINGS

Cheesy Chicken & Broccoli Patties

10 min

4 SERVINGS

15min

4 SERVINGS

5min

4 SERVINGS

15min

4 SERVINGS

Golden Egg Tofu with Minced Chicken

10min

4 SERVINGS

45 min

6 SERVINGS

Picadinho (Brazilian Beef Stew) with Banana Farofa

20 min

4-5 SERVINGS

10 min

2 SERVINGS

10 min

5-6 SERVINGS

Chicken and Seaweed Rice Balls

15 min

4 SERVINGS
Popular Recipes