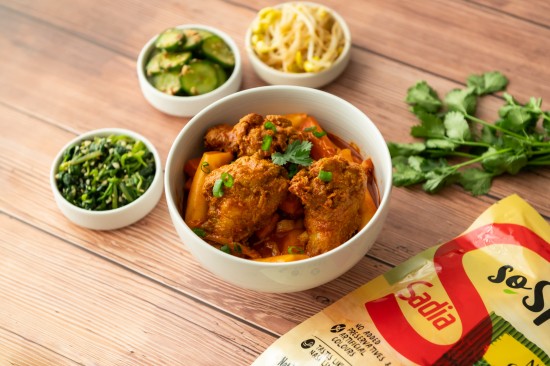 Spicy Nasi Lemak Dak Galbi

15 min

3 SERVINGS
INGREDIENTS
2 packs Sadia Nasi Lemak Chicken Wings
1/2 medium sweet potato (about 180g), cut into long sticks (like thick fries)
1/2 carrot (about 60g), diagonally sliced
1/4 small cabbage (about 320g), shredded
180g Korean rice cakes (soak in warm water for 10 minutes to soften)
3 tbsp cooking oil
Marinade sauce:
3 tbsp gochujang (Korean chili paste)
2 tbsp rice wine
1 tbsp gochugaru (Korean chili flakes)
1 tbsp soy sauce
1 tbsp raw sugar
1 tbsp minced garlic
1 tsp minced ginger
1 tsp Korean curry powder
1/2 small onion (about 35g), grated or minced
A few sprinkles of ground black pepper
METHOD
Air fry Sadia Nasi Lemak Chicken Wings as per packaging instructions
Combine all marinade ingredients in a bowl and mix well. Set aside
Once chicken wings are cooked, set it aside
Preheat a large skillet on medium high and add cooking oil. Put all cut vegetables, rice cakes and marinade sauce into the skillet then cook on medium high heat for 3-4 mins
Reduce to low heat and add in the chicken. Stir well to mix sauce and ingredients, and to prevent ingredients from sticking to the skillet. Cover the skillet with a lid to speed up the cooking process
Remove skillet from heat once ingredients are cooked through. Serve with rice and some Korean banchan (side dishes) for a mouthwatering home-cooked meal!
Nasi Lemak Chicken Wings
Popular Recipes