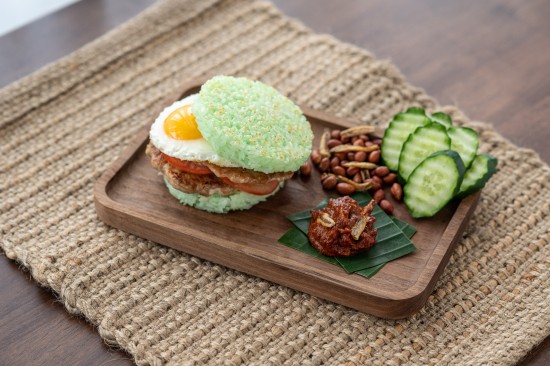 Nasi Lemak Rice Burger

30 min

4 SERVINGS
INGREDIENTS
1 pack Sadia Helper Cuts Minced Chicken (300g)
Patty
300g minced chicken
1 egg
1 sping onion, chopped
1/4 tsp salt
Ground white or black pepper to taste
2 tsp sesame oil
2 tbsp cooking oil
Sauce
1/2 cup mayo
1 tbsp mustard
2 tbsp sambal chilli with ikan bilis
Burger
4 eggs
1 lettuce
1 cucumber, sliced
Rice
2 rice cooker cups short-grain rice
1 1/4 rice cooker cups coconut milk
3/4 rice cooker cup water
3/4 tsp salt
A drop of pandan paste (for colour)
3 pandan leaves
METHOD
Combine all the ingredients for the patty in a large bowl and mix well. Wet hands with water, shape the chicken mixture into a ball and flatten. Set aside
Rinse rice and soak for 30 mins. In a separate bowl, mix the coconut milk, water, salt and pandan paste until well incorporated
Combine rice and coconut milk mixture in a rice cooker and cook using the white rice setting
Fluff cooked rice with a fork and cool completely. Pack rice into a 9-cm ring mould to about 1cm thickness, remove from mould and pan-fry each side for about 2 to 3 mins
Mix the ingredients for the sauce and set aside
Fry each egg in the 9-cm mould and set aside
Heat oil in a skillet on medium-low heat. Transfer the chicken patties onto the skillet and pan fry for about 3 mins on each side, or until well cooked
Time to plate! Rice bun, lettuce, patty, sauce, egg, cucumber, and top off with another rice bun
Serve and enjoy!
Minced Chicken
Popular Recipes