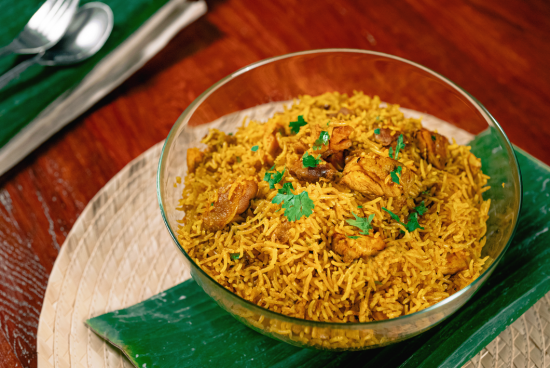 Chicken Biryani

60 min

6 - 8 SERVINGS
INGREDIENTS
2kg Chicken thigh
6 cups Basmati rice
600ml Water
600ml Chicken Stock
1/2 tsp Cumin seeds
12 Cloves
20 Cardamom seeds
4 Cinnamon stick
8 tbsp Ghee
1/2 tsp Salt
50g coriander leaves, chopped
Chicken Marinade:
4 tbsp Garam masala
4 tbsp Grated ginger
4 tbsp Grated garlic
8 tbsp Plain Yogurt
4 tbsp Red chili powder
4 tbsp Turmeric powder
Salt and pepper to taste
METHOD
Cut chicken into chunks
Mix marinade ingredients in a bowl and add chicken chunks in. Marinade for at least 30 min, or overnight
While chicken is marinating, wash basmati rice and set aside
In a pan over medium low heat, add in ghee, cinnamon, cloves, cardamom seeds and cumin seeds. Stir-fry until fragrant.
Turn up heat and add in marinated chicken. Stir fry until chicken is lightly browned
Add in rice and mix well. Transfer into a rice cooker and add in chicken stock and water
Set the rice to cook.
Once cooked, Once fluff rice and serve. Garnish with chopped coriander.
Chicken Thigh
Popular Recipes