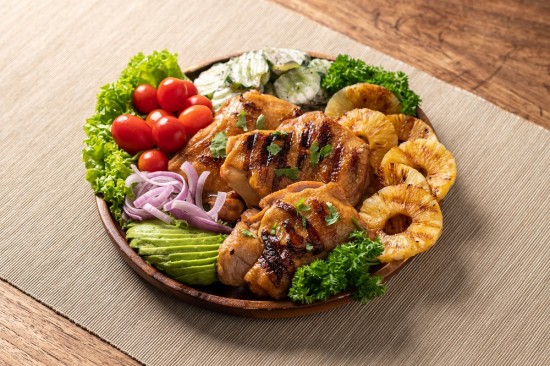 Hawaiian Chicken and Grilled Pineapple

10 min (+ 1 hour marinating)

4 SERVINGS
INGREDIENTS
4 pieces Chicken Boneless Leg
1/4 cup reduced sodium soy sauce
1/4 cup pineapple juice
1/4 cup brown sugar, packed
2 tbsp ketchup
3 cloves garlic, minced
1 tbsp freshly grated ginger
1 tsp sesame oil
1 tsp Sriracha (optional)
2 tbsp chopped fresh cilantro leaves
For the grilled pineapple:
1 pineapple, peeled, cored and cut into 8 to 10 wedges
1/4 cup brown sugar
Side salad (optional)
METHOD
In a medium bowl, whisk together soy sauce, pineapple juice, brown sugar, ketchup, garlic, ginger, sesame oil and Sriracha. Then reserve 1/4 cup and set aside.
In a large bowl, combine the soy sauce mixture and chicken. Marinate for at least 1 hour to overnight, mixing the chicken and sauce occasionally. Once done, drain the chicken from the marinade.
In another large bowl, combine pineapple and brown sugar.
Preheat grill pan to medium-high heat. Add the marinated chicken and pineapple to grill and cook.
Flip the chicken once, basting it with 1/4 cup marinade reserved from before. Do this until it is cooked through, about 5-6 minutes on each side.
The dish is now complete. You can garnish the dish with cilantro, and some side salad if desired.
Chicken Boneless Leg
Popular Recipes