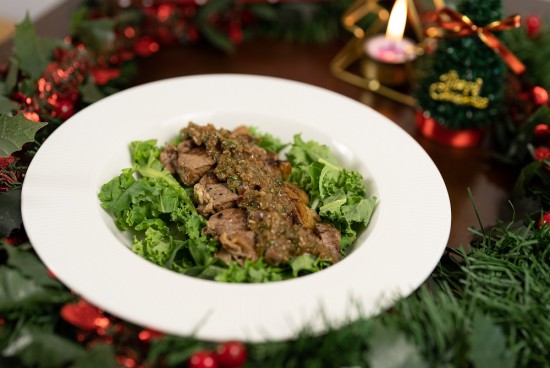 Grilled Steak with Warm Shallot Vinaigrette

10 mins

4 SERVINGS
INGREDIENTS
4 pieces Sadia Beef Striploin Steak
3/4 cup or 2 large shallots, sliced
1/2 cup extra-virgin olive oil
2 1/2 tbsp balsamic vinegar
2 tsp Dijon mustard
1/4 cup parsley leaves
Salt and ground pepper, to season
METHOD
In a small saucepan, cook the shallots in olive oil over low heat and stir frequently until softened but not browned, or for about 10 minutes.
Transfer the shallots and oil to a blender and let it cool briefly. Then add the vinegar and mustard and puree until smooth.
Next, add parsley and pulse until finely chopped.
Season the vinaigrette with salt and pepper.
Meanwhile, preheat a grill pan. Season the steaks with salt and pepper and grill over moderately high heat, turning once, until medium-rare, for around 10 - 12 minutes. Once cooked to desired doneness, let the steaks rest for 5 minutes.
Transfer to plates and top with vinaigrette. Serve with some fresh salad and cherry tomatoes on the side and the dish is complete!
Popular Recipes