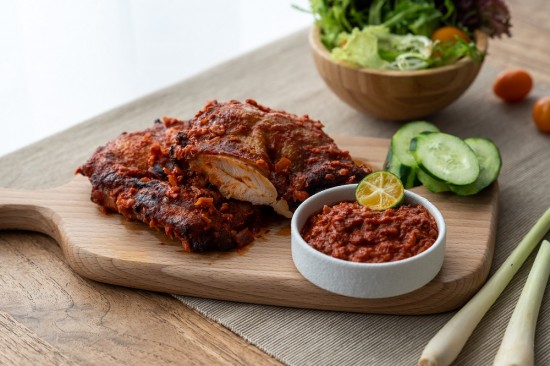 Ayam Percik

10 mins

4 SERVINGS
INGREDIENTS
2 packs Sadia Honey Roasted Chicken Leg
1 large red onion, coarsely diced
1 bulb garlic, peeled
½ inch ginger, peeled
2 tbsp cili boh
2 stalks lemongrass, bruised
1 piece galangal, cleaned and bruised
1 tomato, quartered
1tsp salt
300ml coconut milk
150ml water
METHOD
Blend onion, garlic and ginger until fine. Add the paste and the remaining ingredients (minus the chicken) in a pan over medium heat, stirring occasionally.
Take the chicken out from the freezer and cover the chicken leg with the gravy thoroughly.
Place the chicken with gravy into an oven for 12-14 minutes at 180°C, turning when needed, until fully heated and browned.
Cook the rest of the gravy until thick and pour over chicken when serving.
Honey Roasted Chicken Leg
Popular Recipes