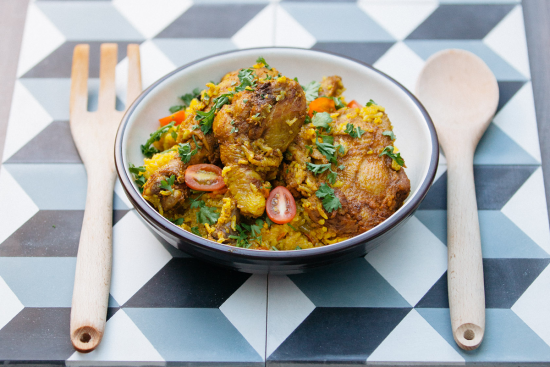 Galinhada (Traditional Brazilian Chicken Rice)

1 hr

4 SERVINGS
INGREDIENTS
2 Sadia chicken thighs, skin on
2 Sadia chicken drumsticks, skin on
2 Sadia chicken drumlets / wings, skin on 300g white rice
600g chicken stock (If making own chicken stock, add more salt if necessary. Recommended amount: 5g salt)
1 medium onion, diced
2 cloves garlic, chopped
1 tomato, diced
1 tbsp tomato paste
1 tbsp white vinegar
4 tbsp olive oil
4 tbsp salt
2 tbsp ground turmeric
A pinch of ground cumin
A pinch of ground black pepper
2 tbsp parsley, freshly chopped
METHOD
Season the chicken, skin on, with turmeric, 2 tbsp salt, pepper, vinegar and let it marinate overnight.
In a hot pan, add the olive oil, then the chicken, with skin on the bottom of the pan. Fry until the skin is crispy. Remove the chicken.
In the same pan, add the onion, then garlic, and sauté till fragrant. Add the tomatoes, to- mato paste, 2 tbsp salt and rice. Mix well.
Pour the rice mix into the rice cooker and add the crispy chicken on top. Pour chicken stock in and ensure that it covers content completely. Cook according to rice cooker's settings.
Serve with parsley as garnish.
One by One Chicken Drumette
Chicken Drumstick
Chicken Thigh
Popular Recipes