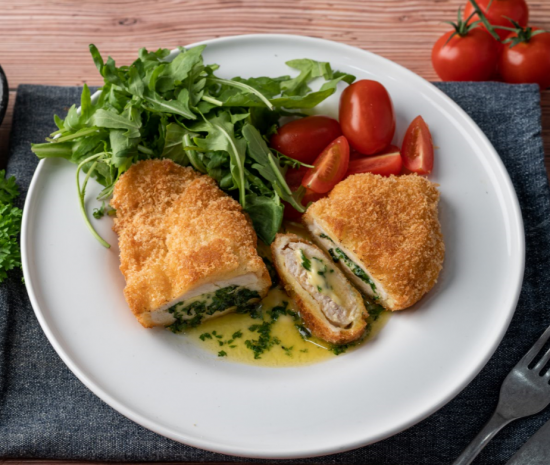 Chicken Kiev

20 mins

4 SERVINGS
INGREDIENTS
4 skinless, chicken breast
150g dried breadcrumbs or panko
3 eggs, beaten
100g plain flour
pinch paprika (optional)
4 tbsp sunflower or vegetable oil, for frying

For the garlic butter :
4 garlic cloves, crushed
2 tbsp finely chopped parsley
100g butter, softened
juice ½ lemon
METHOD
Place ingredients of garlic butter in a bowl and mash them until well combined.
Using cling wrap, shape the mixture into 2 sausages. Wrap them tightly and chill or freeze for 15 minutes or until firm. This can be prepared in advance.
When firm, slice each sausage into 4 even pieces.
Place a chicken breast on a chopping board and use a sharp knife to make a deep pocket inside the breast. The easiest way is to push the point of a knife into the wider end of the chicken breast and keep going halfway into the fillet. Make sure not to cut all the way through or the butter will leak out when cooking.
Push 1 disc of butter into the pocket of each chicken breast. Press to flatten, reseal with your hands and set aside.
Prepare 3 separate plates for flour, eggs and breadcrumbs. Season the flour by adding paprika and salt.
Dip each breast in the plate of flour, followed by the egg and finally, the breadcrumbs. Repeat this such that each Kiev has a double coating.
Cling wrap and chill for at least 1 hour before cooking. Alternatively, freeze the Kievs for about 15 minutes to make it firmer.
Preheat the oven to 180℃. Heat a large frying pan with oil over a medium-high heat. Fry the Kievs for 2-3 minutes each side until golden.
Transfer to a baking tray and cook in the oven for 20-25 minutes until cooked through. Serve with a side of potatoes, salad, or both!
One by One Chicken Breast (Skinless)
Popular Recipes