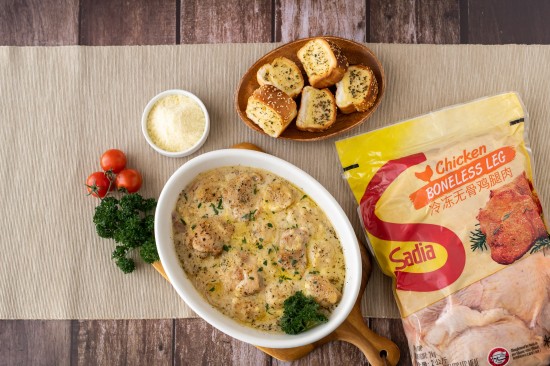 Chicken Stew and Parmesan Dumplings

30 min

4 - 6 SERVINGS
INGREDIENTS
2 kg Sadia Boneless Chicken Leg (1 pack), cut into chunks
2 onions, sliced
6 cloves garlic, peeled
2 tbsp plain flour
1 tbsp dijon mustard
600ml chicken stock
2 tbsp Italian seasoning
50ml heavy cream
Dumplings
400g self raising flour
200g butter
1/2 tsp salt
200ml water
50g grated parmesan
Garnish
25ml Parmesan cheese
1 tbsp chopped parsley
METHOD
Preheat the oven to 200°C. Cut thawed Sadia Boneless Chicken Legs into large chunks
Add 2 tbsp oil to a large Dutch oven or casserole and add the onion, cooking until tranlucent. Add the garlic cloves and chicken and cook for a further 5 minutes, or until the chicken is browned.
Sprinkle the flour over contents of the pan and stir to combine. Add the mustard, wine and chicken stock to the casserole then simmer for 15 minutes. Add heavy cream, chopped herbs and simmer for another 5 minutes."
Make dumplings by mixing the flour, butter, salt and 50g parmesan, then adding enough water to bring the dough together.
Shape into 12 balls and place on top of the boiling stew. Sprinkle the remaining parmesan and cover the lid of the Dutch oven. bake for 20 minutes without removing the lid
Once the dumplings are cooked, remove the lid and lightly brush them with oil before browning them under the grill for 4-5 minutes"
Serve with baguettes or bread.
Chicken Boneless Leg
Popular Recipes