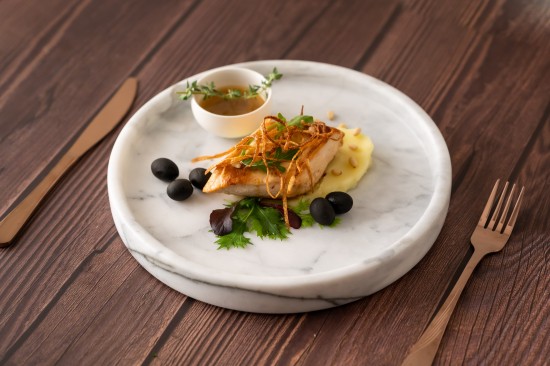 Roast Chicken with Potato Purée

45 min

2 SERVINGS
INGREDIENTS
2-4 pcs Sadia 1-by-1 Chicken Breast, thawed
5g butter
1/2 sprig fresh thyme
1 tbsp pine nuts, toasted (optional)
Salt, to taste
Black pepper, to taste
1 tbsp olive oil
Black olives, to garnish
Baby beet leaves / baby spinach, to garnish
Potato Purée:
250g Yukon gold potatoes, peeled and diced
55g of unsalted butter, cubed
40ml milk
Salt, to taste
Potato Lattice:
80g Yukon gold potato, peeled
Salt, to taste
2 tbsp olive oil
METHOD
Make the potato purée by steaming the potatoes for about 35 minutes or until tender
Place the potatoes in a blender and add milk, butter and salt. Blend on full power for 30 seconds or until smooth. Season to taste, set aside, and keep warm
Make the potato lattice by using a mandolin to slice the potato into 1mm thick slices. Cut into strips and season with salt
In a frying pan over medium-high heat, pour in enough oil to just cover the base. Once the oil is hot, place potato strips in the pan in a lattice (waffle or weave) formation
Pan fry until golden brown, then remove and drain on an absorbent cloth or kitchen towel
Thaw chicken breasts completely. Meat should just be chilled, and not icy
Turn on high heat and add 1 tbsp of oil in the same pan. Once hot, cook the chicken breasts on both sides until browned.
Turn down to low heat, add a knob of butter and continue to cook until nicely caramelised, approx 5-7 minutes. Season with salt and black pepper
Strip thyme leaves from the stem and sprinkle over the chicken. Remove chicken from the pan to rest in the cooking juices
Spoon some potato purée onto the centre of the plate
Slice chicken breasts into diamond shapes and place on top of the purée. Drizzle some of the chicken fat juices on the chicken
Top with potato lattice and sprinkle some toasted pine nuts, if desired
Enjoy with some black olives and baby beet leaves!
One by One Chicken Breast (Skinless)
Popular Recipes