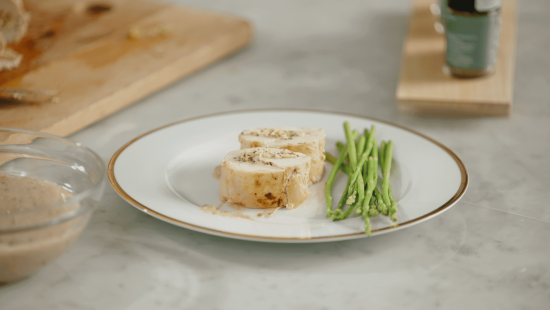 Chicken Breast Roulade with Cranberry / Brown Sauce

10 mins

2 SERVINGS
INGREDIENTS
Chicken Roulade:
2 Sadia One by One Chicken Breast (butterflied)
150g feta, crumbled
5g mixed dried herbs
3 garlic cloves
5g lemon, finely grated zest

Cranberry White Sauce:
100g cranberries jelly
white pepper to taste
15g salt
30g AP flour
28g butter
350g milk

*Alternative Sauce: Brown Gravy :
28g butter
30g AP flour
350g milk
METHOD
Butterfly chicken breast. Mix roulade ingredients and make your roulade.
Roll it up and secure with cling wrap. Place into a suitable food safe bag and sous vide for 90 minutes at 60°C. [Alternative to sous vide: wrap in foil, bake for 45 minutes at 150 degrees celsius]
Prepare sauce while sous vide is on.
Melt the butter in a pot, and whisk in flour. The flour paste will cook and bubble - it should smell like biscuits. Take care not to let it brown.
Add half of the milk while whisking vigorously. While whisking, add the remaining milk.
Add the cranberry jelly, salt and pepper to taste. Lower the heat and cook. Stir for another 2 to 3 minutes before removing from heat.
Remove cling wrap from chicken after it is cooked, pan fry in butter until it starts to brown a little.
Remove from heat, slice it up and drizzle sauce over it.
One by One Chicken Breast (Skinless)
Popular Recipes